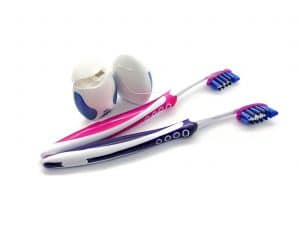 How do people come to find themselves affected by periodontal disease? Just like your teeth, your gums benefit from smart daily hygiene habits. Infections occur when bacteria that gather at the base of your teeth travel below your gum line and attack the tissues. This infection can lead to harmful inflammation, and over time it can lead to the destruction of gums and hard tissues supporting your teeth! Your Encinitas/San Diego, CA periodontal practice knows how serious an infection can be, and we are prepared to use modern services to combat the effects of periodontal disease. To avoid these issues, make sure you are practicing good oral care habits on a daily basis!
Don't Let Oral Bacteria Accumulate At Your Gum Line!
Simply put, your efforts to clean at the base of your teeth can determine how likely you are to experience gum disease. This is not the only factor to consider if you want to maintain healthy gums. For instance, smoking can affect your periodontal health. With that said, you can make an effort every day to avoid gingivitis by thoroughly brushing and flossing your teeth.
Creating A Dependable And Consistent Oral Care Routine
In addition to being thorough, you should be consistent with your oral care routine. Oral bacteria gather throughout the day, and they can proliferate in a short time. If you are not consistent with cleaning your teeth – and cleaning between them by flossing – you can allow plaque and tartar to accumulate. When this happens, it can be harder to avoid gum disease.
Make Sure You Watch Out For Signs Of Gingivitis
There are signs of gingivitis that you can spot on your own, so it is possible for you to observe a possible problem. Watch for evidence of bleeding, and look out for any signs of swelling or discoloration. If you are seeing reasons to be alarmed, or if your dentist is worried about your periodontal health, a consultation with a specialist can be beneficial. Our practice uses modern diagnostic tools to thoroughly evaluate a patient's gums so we can determine what stage of periodontal disease they might have.
Our Encinitas/San Diego, CA Periodontal Practice Provides Modern Care For Gum Disease
At our Encinitas/San Diego, CA periodontal practice, patients can receive advanced services to help them protect their gums. This support can be important, as periodontal disease is capable of doing considerable harm. An infection can increase your risk for tooth loss, expose you to other health issues, and make it harder for you to stay on top of your general health. If you have questions, or if you wish to set up an appointment with Dr. Kania, please call our Encinitas/San Diego, CA practice at (760) 642-0711.