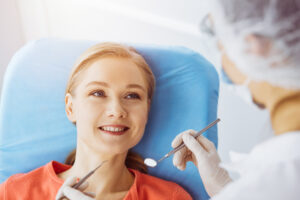 Whether you book an appointment for a routine oral health review or a more advanced procedure, you should look forward to a comfortable patient experience. At our Encinitas/San Diego, CA area periodontal practice, we can help patients remain at ease and supported during different services. Even if you need to arrange something more involved to tend to issues with your gums, we can see to it that you have the right support. We can do this by offering dental sedation when appropriate and by using advanced technology, including laser tools, to improve on the patient experience.
Will I Be Comfortable During A More Involved Treatment For Gum Disease?
During your initial visit, we can use diagnostic imaging technology to see what kind of support you should receive from your periodontist. Identifying and treating issues properly will be important, as it lets us know how far your infection has progressed and what can help you. It may be worrying to learn that you need something more advanced, but remember that an untreated problem with gum disease can result in general health complications as well as tooth loss! We can discuss different approaches we can take to make your time with us easier. That can mean planning on the inclusion of dental sedation during your care, and it can also mean discussions around the role treatment technology plays in making patient care more comfortable.
Sedation Can Help You Feel At Ease During An Appointment
Dental sedation can help patients with anxieties around treatment and those who come in for longer or more involved services. Many people will benefit from either nitrous oxide administered during care or an oral sedative taken before a procedure. We can offer guidance on their benefits and how they can affect the treatment experience. Nitrous oxide can provide a relaxing sensation that dissipates soon after a procedure, making it easier for you to return to your daily routine after your appointment.
How Lasers Make Care Easier During And After Treatment
By using laser tools to take on active problems with periodontal disease, we can do more than just make treatment itself more comfortable. Because these tools provide more accurate work and limit bleeding while tending to your soft tissues, you can have a shorter and easier recovery! Laser treatment for your gums can help you avoid problems and experience a better recovery by both removing bacteria on the roots of teeth and tending to areas of infected gums, which encourages healing and healthy tissue growth.
Talk To Your Encinitas/San Diego, CA Periodontist About Comfortable Care For Gum Disease!
The right approach to treatment for gum disease can have lasting benefits. You can learn more about how we can support you and provide a better patient experience by calling Dr. Kania's office in Encinitas/San Diego, CA, at (760) 642-0711.