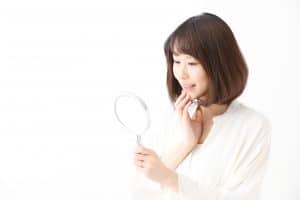 So you have started to notice that something might be wrong with your gums…what should you do about it? If you are not aware of how serious gum disease can become, you may be tempted to leave the problem alone, and hope everything returns to normal after a short time. This can be a mistake, as periodontal disease can become difficult to maintain if the condition is allowed to worsen. A person who suffers from periodontal disease faces a higher risk for tooth loss, and they can have a more difficult time addressing other health matters. At our Encinitas/San Diego, CA periodontal practice, we can tell you what is going on with your periodontal health, and recommend the appropriate response!
Symptoms Associated With Gum Disease
What kind of problems can a person experiencing gingivitis, the first stage of a periodontal problem, identify? You may not be able to spot it by sight, but a few embarrassing encounters can be enough to let you know that you are struggling with chronic bad breath. You can also start to have trouble with gum tissues that bleed when you clean your teeth, periodontal swelling, and issues with reddened tissues.
Responding To Signs Of Gingivitis
With appropriate care, gingivitis can be stopped before the problem grows more serious. A scaling and root planing allows your periodontist to clear away harmful bacteria that have gathered below your gum line. After performing this work to remove unwelcome microbes, your periodontist will take care of the surfaces of teeth by making it harder for future bacteria to build up. To help you further fight infections that attack your gums, you can be given Perio Protect, which will allow you to apply antibacterial agents directly to your gums.
Managing Advanced Periodontal Disease
If you have issues with periodontal disease, we can provide services that help you manage the problem, and avoid upsetting complications. One issue associated with periodontal disease is gum recession. We provide pinhole gum grafts that make the process of moving your gum line less intrusive, and less involved. We also offer laser-based periodontal treatments that safely trim away infected periodontal tissues. This approach can allow you to heal faster, and it can encourage the growth of healthy tissues. With successful treatments, we can limit the impact periodontal disease ultimately has on your health and smile. If you have already experienced tooth loss – one of the more severe consequences of an infection – we can discuss restoring your smile with dental implants.
Talk To Dr. Kania If You Notice Signs Of Gum Disease
If you suspect that you have a problem with gum disease, our practice can help by providing care to stop the condition from progressing. We also provide modern services that help patients keep a problem with more advanced periodontal disease under control. To seek Dr. Kania's expertise, contact her office today at (760) 642-0711.