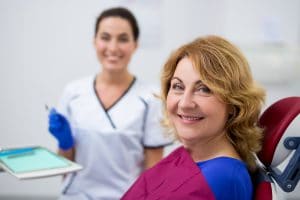 Earlier this month, a firefighter in England experienced a serious heart condition that he traced back to his effort to dislodge a piece of popcorn stuck between his teeth. After making several attempts to remove the piece with different items, he believes that a resulting infection affecting his gums was the reason for his endocarditis. This potentially serious heart condition can result when an infection like periodontal disease, or another infection at a different part of the body, allows bacteria to enter your bloodstream and attack your heart. Untreated problems with periodontal disease should concern you – even if your condition does not lead to heart troubles, it may make other health conditions harder to manage, and it can cause you to experience tooth loss. Our Encinitas/San Diego, CA periodontal practice offers multiple procedures that can help you preserve your periodontal health!
Untreated Issues With Your Gums Can Be More Serious Than You Might Expect
If you only think of gingivitis and its effects when you think about periodontal disease, you can be unaware of potentially serious complications linked to an infection. It is possible for bacteria responsible for periodontal disease to travel, and create new problems for you. You also have to worry about the destruction of bone and periodontal tissues that keep your teeth in place.
Unfortunately, gum disease can become difficult to manage when the problem progresses beyond gingivitis. With that said, procedures like ozone therapy and laser periodontal treatments offer modern solutions for your troubles. With the right treatment, we can fight bacteria and control your risk for complications from periodontal disease.
We Provide Diagnostics And Treatments For Periodontal Disease
By performing diagnostics of your teeth and gums, we can determine how periodontal disease might affect you. If you have problems with gingivitis, we can reverse your condition through preventive periodontal care. If the problem is found to be more severe, we can make plans to help you keep bacteria under control. You can even count on our practice for help if you are trying to restore your complete smile after tooth loss caused by periodontal disease.
Our Practice Can Offer Tips On Avoiding Future Troubles With Your Gums
Smart daily practices can help you avoid troubles with your gums. Be mindful of behaviors that can damage tissues, or allow bacteria to enter your mouth. To maintain healthy tissues, make sure you brush and floss thoroughly. Your oral hygiene routine deserves real attention, and you should make sure that you consistently clean at the bases of teeth to remove bacteria that might cause gingivitis.
Talk To Dr. Kania If You Are Concerned About Your Periodontal Health
Are you currently worried about possible periodontal disease? Dr. Kania provides modern treatment options to help you fight harmful infections that can impact your smile and overall health! To make your appointment, contact her office today at (760) 642-0711.