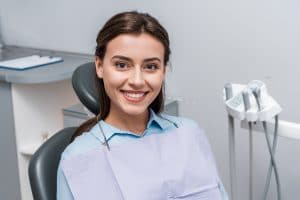 Sometimes, people start to grow concerned about their periodontal health because they experience issues with bleeding gums, sensitivity, swelling, or even tissues that start to redden. Others will not think about possible problems with gum disease unless they receive a warning from their dentist about the problem. If you have any reason to suspect that you might be dealing with a periodontal infection, you should make sure that the matter is properly addressed. Scheduling an appointment with a periodontal specialist can give you expert information about your condition, and offer you access to modern treatment options. Our Encinitas/San Diego, CA periodontal practice is ready to offer an advanced evaluation, and – if necessary – we can discuss treatment options.
How Concerned Should You Really Be About Periodontal Disease?
If you have a problem with a periodontal infection, you should be concerned about the effect it could potentially have on your overall well-being. The first stage of an infection, gingivitis, can cause problems with your tissues that lead to bleeding and sensitivity, and may lead to the recession of your gum line. If your condition progresses to periodontal disease, the problem can start to interfere with your overall health, and raise your risk for tooth loss!
Arranging Preventive Care To Stop An Infection From Worsening
If you exhibit signs of gingivitis, scaling and root planing can restore the health of your gums before the problem has the opportunity to worsen. During this procedure, bacteria attacking your periodontal tissues are cleared away, and the surfaces of teeth beneath your gums can be polished to make future bacteria buildup less likely. In addition to providing this service for patients with gingivitis, we can recommend supportive periodontal maintenance for individuals who need help managing periodontal disease.
We Offer Modern Treatments For Advanced Infections
Protecting your health when you have periodontal disease is important. Through our modern, patient-friendly approach to periodontal care, you can enjoy shorter recovery times and less invasive procedures as you fight to restore your health. Through the use of laser periodontal treatment, it is possible to remove infected tissues without the need for sutures, and with shorter healing periods. We also use procedures like ozone therapy to directly target harmful microbes while leaving healthy bacteria unaffected. These services make it possible to control the particularly serious effects that periodontal disease can ultimately have on a person's smile and overall well-being.
Talk To Dr. Kania If You Are Worried About The Health Of Your Gums
At our Encinitas/San Diego, CA periodontal practice, we can give you important information about the condition of your gums, and offer modern procedures to target problems with infection. If you wish to seek Dr. Kania's expertise, contact her office today at (760) 642-0711.