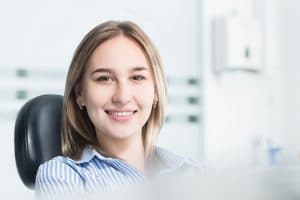 While your dentist can provide an important protection against many problems that affect your smile, they may suggest seeing a specialist if you are affected by periodontal disease. When people think about gum disease, they sometimes only think about gingivitis, which can be reversed through proper preventive care. While our Encinitas/San Diego, CA periodontal practice can offer preventive care in order to deal with gingivitis, we are also ready to help with more advanced troubles that might affect your periodontal health. If your gums have developed a more advanced infection, we can help you understand what problems your condition might be causing, and we can recommend modern services to help you manage your periodontal troubles.
You Should Be Concerned About Signs Of Gum Disease
If there is evidence to suggest that gum disease is negatively affecting your well-being, you should take the problem seriously. People who develop periodontal disease face a greater risk for tooth loss, and they can find it more difficult to avoid problems with their general health. If there is still time to reverse your condition through the appropriate preventive care, your periodontist can recommend a scaling or root planing. If periodontal disease is affecting your health, we can discuss supportive periodontal maintenance treatments, or services like ozone therapy and PRP therapy to help you fight bacteria and regain healthy tissues.
What Can You Learn During A Visit With Your Periodontist
We provide careful evaluations of your periodontal health with diagnostic tools that can reveal what state your gums are in. With the information gathered through modern imaging technology, we can give you a clear idea of what your concerns should be regarding your smile health. This information can also help us make recommendations for different treatment options. If it is appropriate, we can recommend services like laser periodontal treatment to remove infected tissues that are creating problems for you.
Making Changes At Home To Avoid Future Issues With Gum Disease
If you want to protect yourself against worsening gum disease, or if you want to make sure you are protected against future threats, we can recommend better habits to follow at home. Better oral hygiene practices can help you make sure that your gums are protected against plaque and tartar at your gum line. For additional support, we can provide you with Perio Protect, which gives you the tools to fight an infection directly with antibacterial agents.
Talk To Dr. Kania About Your Gum Disease Concerns
At our Encinitas/San Diego, CA periodontal practice, Dr. Kania is prepared to help individuals understand the threats posed by periodontal disease, and to help them fight the effects of this condition. In order to seek Dr. Kania's expertise, you can contact her office today at (760) 642-0711.