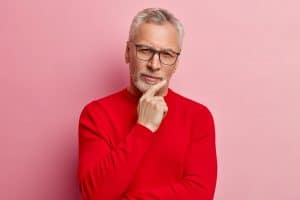 Tooth loss is certainly something you can avoid in your life, but you need to make an effort to maintain good oral health if you want to preserve your smile. You also need to be especially mindful of your periodontal health – you might be surprised to learn that gum disease is actually the leading cause for tooth loss among adults! If you develop periodontal disease, also known as periodontitis, the tissues supporting your teeth can be destroyed over time, and that damage can lead to teeth becoming loose, or being lost! Your Encinitas/San Diego, CA periodontist is ready to protect your smile by helping you fight the effects of gum disease. Our practice can also help you regain your smile by providing dental implants.
Periodontal Disease Can Damage The Tissues That Support Your Teeth
When periodontal disease forms, you can have a difficult time maintaining your oral health, and you may experience problems that affect your general well-being. One of the problems associated with periodontal disease is the damage of tissues that keep teeth securely in place. As these tissues are destroyed, you can feel teeth start to loosen, and you may even need to arrange extractions.
Taking Steps To Protect Your Smile Against The Effects Of Periodontal Disease
Periodontitis can be managed with the right treatments! We can provide ozone therapy to directly target harmful microbes beneath your gums, while protecting friendly bacteria, in order to help you recover. We can also use laser treatment to trim away damaged tissues, so your gums can produce healthy tissues during the healing process. Laser Periodontal Treatment (LANAP)
In addition to helping you with in-office procedures, our practice can provide you with the means to fight bacteria between appointments. We offer Perio Protect, which supplies you with a custom tray and antimicrobial agents that make it possible for you to treat your periodontal disease at home.
We Can Provide Dental Implants For Patients Who Have Already Suffered Tooth Loss
Dental implants provide permanent stability for prosthetic dental appliances that replace teeth you have lost. The support from these titanium posts can make a person more comfortable with a restoration, and give a prosthetic the support necessary to help you bite and chew without problems. Dental implants also stimulate your jawbone, which helps protect the bone against deterioration.
Talk To Dr. Kania About Your Issues With Gum Disease!
At our Encinitas/San Diego, CA periodontal practice, Dr. Kania is prepared to help individuals who have experienced problems with periodontal disease. We can help you manage your condition, and avoid complications. If you have already experienced issues, including tooth loss, we can provide important support to help you regain your full, confident smile. To seek Dr. Kania's expertise, contact her office today at (760) 642-0711.