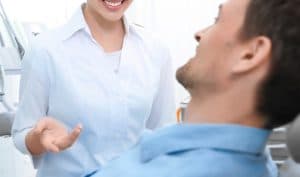 Not everyone experiences gum disease (or periodontal disease) in their lives, but those who do can protect and preserve their smiles best by seeking treatment from a periodontal expert. If your dentist notices the signs of the disease during your regularly scheduled checkup, then you may be referred to a periodontal specialist for a second opinion and more precise treatment. At our Encinitas/San Diego periodontist's office, we provide comprehensive diagnostic services for every patient to ensure that they receive optimal treatment for their gum disease.
A complicated issue
Gum disease is a more complicated issue than you may realize, and in many cases, it requires a specialist to treat and manage it successfully. For example, it presents in different stages, from gingivitis (its earliest stage) to periodontitis (more severe gum disease). Unlike a general dentist, a periodontist specializes in analyzing and treating the periodontal tissues and structures that support your teeth. This includes the ability to precisely pinpoint the stage of your gum disease and help you determine the most appropriate treatment option for it.
Expert periodontal care
Also unlike a general dentist, a periodontist routinely performs a wide range of treatments designed specifically to restore, preserve, and enhance your periodontal health. For instance, scaling and root planing (or periodontal cleaning), laser periodontal treatment, holistic bacteria elimination, minimally invasive gum grafting, and much more can be recommended according to the specific stage your gum disease is currently in.
Precise smile restoration
In addition to expertly treating gum disease, your second opinion appointment with your periodontist will also include a discussion about restoring your smile afterward. For example, many people lose teeth to gum disease, which is the leading cause of tooth loss. If you have, then your treatment plan might include the placing of one or more dental implants, or prosthetic teeth roots, in your jawbone. The posts can be used to support a custom-designed prosthesis in the way natural teeth roots support healthy teeth.
Get a second opinion from an expert
If you have gum disease, then get a second opinion from an expert before undergoing treatment for it. For more information, schedule a consultation with Dr. Kania by calling her periodontal office in Encinitas/San Diego, CA, at (760) 642-0711.