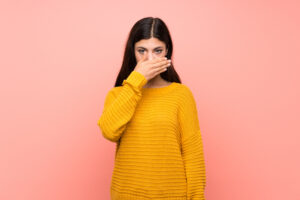 If your gum line is receding, you can find it hard to feel great about how you look when you smile. This is because a problem with your periodontal tissues can affect the way you look by making teeth seem too long, and by making your smile uneven. Unfortunately, this is not just something that can hurt your appearance, as you can have cosmetic problems as well as more trouble for your general health! Our Encinitas/San Diego, CA periodontal practice can provide support through a conservative gum grafting treatment that does not require suturing.
Are You Embarrassed By Your Smile Because Of Your Receding Gum Line?
When you notice a change in your gum line, it can be hard not to focus on how much your appearance has changed. Our periodontal tissues can play a more important role in preserving smile quality than many people realize. Once you start to deal with receding tissues, teeth can look long and awkward, and that can make them a poorer fit for your smile. This is an issue that also leads to concerns about increased dental sensitivity and vulnerability, as our roots are not as strong as the portions of teeth that normally reside above the gum line. The problem can even make it more difficult for you to prevent problems with poor gum health!
Planning A Gum Grafting Treatment To Restore Your Smile
Our practice relies on laser technology to provide more conservative services, including a more conservative approach to gum grafting treatment. We employ the Pinhole Surgical Technique in order to move forward with care without the need for suturing. Instead, we can manipulate tissues through pin-sized holes that are made with a special laser. Because this approach creates less tissue damage and makes suturing unnecessary, you can have a shorter and easier recovery period.
Why You Should Look Out For Changes In Your Gums
Gum line recession is just one of the many problems that an infection can cause. When you know to look out for different problems like changes in tissue sensitivity, more frequent bleeding, problems with discoloration, and more, you can recognize the early warnings that gum disease is affecting you. When caught in time, preventive periodontal services can help you avoid more serious issues.
Talk To Your Encinitas/San Diego, CA Periodontist About Treating Your Receding Gum Line
A receding gum line can make you embarrassed for your smile, and it can also raise concerns about your periodontal health. When you bring the problem to the attention of Dr. Kania, you can learn how a conservative treatment with lasers can benefit you. If you would like to learn more about how a receding gum line can be managed, call Dr. Kania's office in Encinitas/San Diego, CA, at (760) 642-0711.