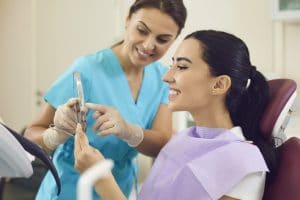 A person who has anxieties around dental care may be reluctant to see someone for treatment even when they think something might be wrong. As a result, the window for the early detection and treatment of something like gum disease can close, leaving them with a more advanced problem that requires the care of a periodontist. At our Encinitas/San Diego, CA periodontal practice, we are prepared to work with you if poor periodontal health has become a concern. If you struggle with dental anxiety, we can walk you through our approaches to making care a more calm and comfortable experience.
Does Anxiety Around Oral Health Care Make It Hard For You To Seek Treatments?
Long-term periodontal problems can be prevented when the right care is provided. At routine dental exams, problems with gingivitis can be identified and addressed before an infection has the opportunity to worsen. Unfortunately, some patients are never warned about gingivitis because they do not schedule routine care. One reason people skip their regular checkups is because they struggle with dental anxiety, which can make even preventive services difficult.
How Sedation Helps Patients Stay Calm And Comfortable In The Chair
When patients are anxious about a procedure, or when they are coming in for a longer and more involved treatment, we can offer dental sedation. Different forms of sedation are offered to help people under different circumstances. Your options include nitrous oxide, which can be administered during a procedure, or an oral sedative, which can be more potent. While an oral sedative can make you more relaxed, its effects can linger for longer than nitrous oxide.
Laser Treatment Can Offer More Comfort During And After Your Care
Even if you do not have issues with dental anxiety, you can feel uneasy about a more involved treatment to resolve trouble with your periodontal health. With the use of laser technology, we can make a procedure to fight periodontal disease more comfortable than you might think possible. With laser tools, we are able to more comfortably manipulate your soft tissues to remove bacteria and infected sites. The removal encourages the growth of healthy tissues to replace the ones that were damaged. Lasers remove the need for suturing after treatment, and the make cuts more precise to reduce the actual changes to your tissues.
Schedule Care With Your Encinitas/San Diego, CA Periodontist's Office
Our Encinitas/San Diego, CA periodontal practice is prepared to help patients who have anxieties about treatment. In addition to offering services that make periodontal care more comfortable, we are able to provide dental sedation during your treatment. To find out more about our practice, and the different services that are available to you, call Dr. Kania's periodontal office in Encinitas/San Diego, CA, at (760) 642-0711.