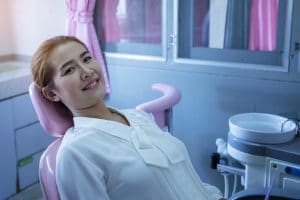 When periodontal disease takes its toll on a person's smile, they may notice an unwelcome change to their gum line. The recession of these tissues can expose areas of teeth that are typically covered, and are more sensitive when they lack protection from your gums. This change can also have a negative impact on your appearance, as it can make your teeth look long, or affect the symmetry of your smile. Our Encinitas/San Diego, CA periodontal practice is here to help you if you want to restore your gum line. Thanks to our pinhole gum grafting procedure, we can provide this service with less work and a shorter healing period.
Periodontal Disease Can Have An Unwelcome Effect On Your Gum Line
There are many unpleasant issues that can result from gum disease. If the problem is managed in time through preventive periodontal care, the effects of an infection can be limited, and you can recover naturally. However, if your gum line begins to recede, it can take professional treatment to resolve the matter. If gingivitis is not stopped in time to prevent periodontal disease, it can also lead to damages to the tissues that keep your teeth in place. The resulting attachment loss can lead to a person losing teeth!
Schedule Pinhole Gum Grafting At Our Practice
Thanks to the Pinhole Surgical Technique, we can manipulate your periodontal tissues with a conservative treatment that calls for shorter healing periods. The process removes the need to use a scalpel, and even allows us to forgo the use of sutures to help you recover. Biocompatible collagen material is used to encourage your safe and prompt recovery, and you can see cosmetic improvements with little wait!
We Can Help You Deal With Problems Linked To Periodontal Disease
There are many problems that periodontal disease can cause if the problem is not managed. Our practice helps patients keep an infection under control with modern services that are intended to preserve healthy tissues and shorten recovery periods. We rely on lasers when working with periodontal tissues, as they allow us to carefully treat your gums without affecting healthy areas. We can also use procedures like ozone therapy to fight harmful bacteria. Because ozone therapy uses concentrated oxygen to fight an infection, it can avoid hurting the healthy microbes that maintain your mouth's ecosystem.
Talk To Your Encinitas/San Diego, CA Periodontist About Pinhole Gum Grafting
At our Encinitas/San Diego, CA periodontal practice, individuals who are embarrassed or concerned about receding gums can talk with us about our pinhole gum grafting procedures. This process can lead to a faster recovery, and it can minimize the work required to restore your gum line! To find out more, call Dr. Kania's periodontal practice in the Encintias/San Diego, CA area at (760) 642-0711.