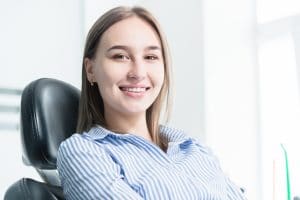 As concerns about coronavirus continue to affect our behaviors at public and personal levels, it can sometimes be hard to know what you should do to maintain your safety. While research has helped us identify riskier behaviors, it also helps us understands what services we can still enjoy without creating more health risks. Studies have shown that oral and periodontal practices can perform services while keeping patients safe from illness. Our Encinitas/San Diego, CA periodontal practice has always taken care to maintain a safe and sterile environment for our patients and team members. In order to continue keeping everyone at our office safe, we have adjusted some of our office practices to further increase safety. Through effective sterilization measures and office practices that lower personal interactions, we can continue to provide important periodontal health services while keeping everyone protected!
Maintaining A Safe Environment For Our Team And Patients
As a facility that performs health services, cleanliness and sterilization have always been priorities. We are following guidelines put forth by the Centers For Disease Control, the Occupational Safety And Health Administration, and the American Dental Association to keep up our spaces safe. That means keeping all office tools and spaces clean, but it also involves updates to how we meet and interact with patients. We are spacing out appointments to limit in-person interactions, and ask that those with appointments wait in their vehicles until it is time for them to be signed in. We will also have a series of preliminary questions for patients, and ask that everyone have a mask on upon arrival. By implementing these changes, we can further bring down coronavirus risks for everyone in our facility.
The Benefits Of Quality Periodontal Care
Access to periodontal care can help you in more ways than you might realize. By fighting periodontal disease, we can prevent the damage of tissues and ligaments that keep your teeth in place. We can also destroy harmful microbes that could create more problems by spreading to different areas of your body. For those who need preventive periodontal care, we can stop an infection before complications occur. Those who are already struggling with more advanced infections can undergo procedures to control symptoms.
Remember To Practice Smart Periodontal Care At Home, Too!
While we are here to help patients, we want to remind everyone that good oral hygiene at home is your first line of defense against periodontal disease! Continue to brush and floss thoroughly so that you can avoid gingivitis, dental health issues, and other problems linked to oral bacteria!
Schedule Care At Our Encinitas/San Diego, CA Practice!
Our Encinitas/San Diego, CA periodontal practice is here to help people in our community address potentially serious problems with periodontal disease. To learn more about our services, and our continued efforts to maintain a safe environment, please call Dr. Kania's periodontal practice at (760) 642-0711.