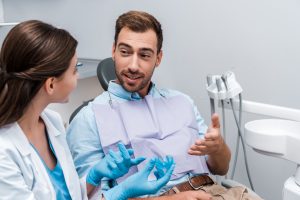 How comfortable do you feel when you are in the dentist's chair? While many people have no problem with a routine visit, they may be less eager to go in for treatment to address a problem. For some individuals, even a regular preventive appointment can be stressful. Dental anxiety is a real issue, one that should be taken seriously. Unfortunately, it is an issue that can actually lead to more dental trouble. If you put off appointments to address oral health issues, even when you feel that something is wrong, you can make yourself vulnerable to complications that lead to more trouble and require more care! Our Encinitas/San Diego, CA periodontal practice can help if you feel uneasy about an appointment. Dental sedation helps patients stay calm and comfortable, even when they go in for treatments that are longer and more involved.
Do You Struggle With Dental Anxiety?
Whether you have unease about all dental visits or just feel uncomfortable with restorative services, letting these negative feelings keep you from treatment can have real consequences. This can be particularly true if you struggle with periodontal disease. While gingivitis is a reversible problem, something your general dentist can assist you in managing, a more severe infection is not to be taken lightly, as it can cause worsening damage to tissues and interfere with your general health. In time, this problem can lead to tooth loss, it can raise your risk for heart troubles, and it can make other problems with your health harder to manage.
How Sedation Makes Appointments Easier
Through the use of dental sedation, we can make your time during treatment easier. We provide support in the form of nitrous oxide, a gas that you inhale throughout your appointment. The effects of this gas wear off quickly, which means you can recover in time to leave without help and return to your day. You also have the option of something stronger, such as an oral sedative. A sedative taken orally will have a longer effect, which is why help to and from your appointment is needed.
We Can Help You Control Your Risk For Periodontal Problems
By keeping up with care to manage periodontal disease, you can avoid problems with tooth loss and other concerns brought on by the spread of bacteria under your gums. In addition to treating more serious problems, we can offer Supportive Periodontal Maintenance to help you stop microbes from building up and causing more threats to your health and smile.
Talk To Your Encinitas/San Diego, CA Periodontist About Treatment To Manage Poor Gum Health
Through the right approach to care, you can keep problems with poor periodontal health under control, even if you need to address an advanced infection. For those patients who have a hard time scheduling care because of anxiety, our Encinitas/San Diego, CA periodontal practice can offer dental sedation. If you would like to learn more about our practice and services, call Dr. Kania's office in Encinitas/San Diego, CA, at (760) 642-0711.