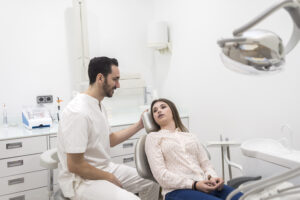 When you meet with a specialist to discuss the impact of periodontal disease on your health and smile, one area of concern will be potential tissue damage from bacteria. At our Encinitas/San Diego, CA periodontal office, we can actually recommend a service that helps you with this by using natural growth factors. PRP therapy makes use of platelet-rich plasma to help your body recover from harm to tissues in a more holistic way. In addition to relying on natural growth factors to help you recover from the negative impact that this condition can have on your life, we can discuss other services to deal with concerns like gum line recession, bacteria buildup, and other concerning matters.
Unchecked Periodontal Problems Can Do Real Harm To Your Soft Tissues
Problems with gum disease start when bacteria make their way to the roots of your teeth and under your gum line. Those microbes can first cause issues with gingivitis, but as they multiply and spread, the problem can turn into a more serious case of periodontal disease, which proves more difficult to manage. In time, that infection can lead to tissue damage that makes you vulnerable to tooth loss, and it puts you at risk for problems as bacteria make their way into your bloodstream and move to other parts of the body. By seeing a specialist, you can enjoy a thorough diagnostic review that helps you understand the problems with your gums, and you can discuss a number of specialized services that can help you fight it.
How PRP Therapy Uses Natural Growth Factors To Help Your Recovery
With PRP therapy, we can take a more holistic approach to treating the destruction of tissues by harmful microbes. This treatment applies platelet-rich plasma to help facilitate a natural recovery. Platelets are already relied on to repair physical damages. By using plasma with higher concentrations, we can encourage faster healing and recovery.
Exploring Your Different Options For Treating Gum Disease
What is the right treatment approach for you if you suffer from gum disease? That will depend on the state of your smile when we evaluate you. Based on your needs, we can discuss services like ozone therapy, which take care to target only the harmful bacteria under your gums, or laser periodontal treatments that clear away unhealthy tissues as well as bacteria buildup on the roots of teeth. We can also talk to you about ongoing preventive maintenance to help you avoid the kinds of complications that can negatively impact your quality of life.
Talk To Your Encinitas/San Diego, CA Periodontist About PRP Therapy
Through PRP therapy, we can help patients affected by tissue damage enjoy a better experience with recovery! If you want to learn more about this or any other service we offer to those with advanced gum disease, call Dr. Kania's office in Encinitas/San Diego, CA, at (760) 642-0711.