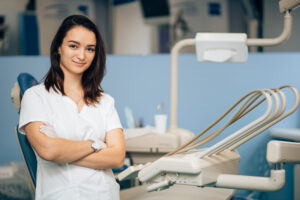 A problem with gum disease will affect you when harmful oral bacteria start to gather on your roots after moving beneath your gums. This infection, when not addressed in time, can become serious enough to make you vulnerable to tooth loss and other real threats. However, you should know that not all of the bacteria in our mouths are harmful, as many contribute to your mouth's healthy ecosystem. One way in which our Encinitas/San Diego, CA periodontal practice can help you is by providing ozone therapy. This service will target the unwelcome bacteria with concentrated oxygen. Those that are harmful are dealt with, but the healthy bacteria in your mouth are preserved, which helps you maintain your overall dental health and enjoy an easier recovery.
Are You Having Trouble Managing Your Periodontal Health?
The longer it takes you to do something about a harmful periodontal problem, the more likely it is that you will have to deal with complications from an advanced infection. In time, that can mean complications with your general health, and it can also mean tissue damage that results in tooth loss! Our practice is able to offer different services to help those with different degrees of gum disease. Based on the information gained through a diagnostic review of your gum tissues, we can assess what service or services might be right for you. Ozone therapy offers a holistic treatment approach, one that relies on oxygen to take out unwelcome bacteria while still preserving your mouth's ecosystem.
Taking Care Of Harmful Microbes Through Ozone Therapy
When you undergo treatment for periodontal disease, how can you make sure harmful bacteria are targeted while healthy microbes are not? Ozone therapy provides an effective means of dealing with the harmful agents, as it uses oxygen to only target anaerobic bacteria. Those microbes that are beneficial to your smile can be spared, which helps to preserve your overall oral health.
Discussing Your Other Periodontal Treatment Options
There are different periodontal services that are available to our patients. For those who are affected by a more serious infection, we can discuss more involved services, including services that use lasers to safely treat periodontal tissues. We also provide more conservative preventive services, including regular supportive periodontal maintenance and scaling and root planing to clear away bacteria from your roots.
Talk To Dr. Kania About Beginning Ozone Therapy!
To address your difficulties with periodontal disease, Dr. Kania can recommend that you undergo ozone therapy. This holistic treatment approach uses concentrated oxygen to fight harmful microbes while preserving the healthy bacteria that are important to your mouth's ecosystem. If you would like to find out more about how this and other services we offer can help you, please call Dr. Kania's office in Encinitas/San Diego, CA, at (760) 642-0711.