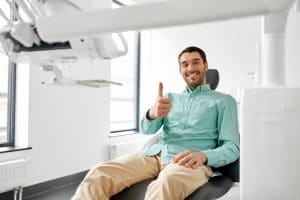 Untreated problems that impact your periodontal health can lead to serious consequences, including issues with serious tooth loss! With this in mind, it can be easy to see why many people are eager to arrange treatment to manage their periodontal disease. Unfortunately, some people can face struggles with dental anxiety, causing them to avoid beneficial treatments. At our Encinitas/San Diego, CA dental practice, we can provide dental sedation before a procedure. A sedative can effectively create a sense of relaxation that makes treatment easier to undergo. Because different people have different levels of anxiety around oral health treatments, we do offer more than one form of dental sedation.
Why We Offer Dental Sedation For Patients
For many people, the idea of a trip to see their dentist (or periodontist) can be less than alarming. However, there are individuals who have a harder time making appointments, even if they only require a routine dental exam, due to their feelings of dental anxiety, or more severe issues with dental fear. To help combat these feelings, we use dental sedation can make a person's time in the chair easier. Of course, this is not just for people who have issues with dental anxiety. Sedation can also help a person anxious about a particular treatment, and it can make a longer procedure more comfortable.
Options For Sedation Available To You
With nitrous oxide, it is possible to help a person relax during their visit, without lingering effects. That means that you can receive the benefits of a sedative during a procedure, and recover in time to safely drive yourself home. This gas is administered continuously over the course of your appointment, and its effects dissipate quickly once it is no longer administered. For people who need something more potent, an oral sedative can be offered.
The Importance Of Addressing Periodontal Troubles
If you have issues with gum disease, going without treatment can be a big problem. Over time, your infection can damage the tissues that are supporting your teeth. How significant is this damage? When you consider that tooth loss is the leading reason for adult tooth loss, it can be clear that the problem is not something you want to ignore! Unchecked problems with periodontal trouble can also make it harder for you to manage your general health. Fortunately, procedures like ozone therapy and PRP therapy can help by eliminating the microbes responsible for periodontal disease, and helping you recover healthy tissues.
Talk To Dr. Kania About Receiving A Dental Sedative For Your Periodontal Treatment
Dr. Kania is prepared to deliver superior periodontal care to individuals in and around Encinitas/San Diego, CA! If you have issues with dental anxiety, but know that you need to do something about your periodontal health, we can help! To seek Dr. Kania's expertise, contact her office today at (760) 642-0711.