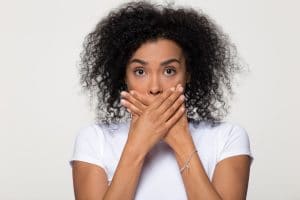 The bacteria that gather at your gum line can do more harm to your smile than you might expect. If you are only familiar with the impact of gingivitis, you may not realize just how many issues an unaddressed infection can eventually cause. For patients who do not respond to gingivitis in time, periodontal disease can become an issue. This advanced condition can lead to the destruction of tissues that support teeth, which can result in tooth loss. You can also have a harder time managing your general health, as periodontal disease can influence your risk for issues related to heart disease, diabetes, and more! At our Encinitas/San Diego, CA dental practice, we recognize the importance of effectively controlling periodontal disease, and we can provide you with modern solutions to your condition!
Periodontal Disease Can Hurt More Than Just Your Smile
Periodontal disease can be difficult to manage, and if the problem is not being dealt with, you can eventually lose teeth due to the damage dealt to bone and gum tissues. This condition can also cause tissue inflammation, and over time it may make it harder for you to protect yourself against other concerns around inflammation. You can be more susceptible to high blood pressure and heart disease, and you can have a more difficult time dealing with a condition like diabetes.
Managing The Effects Of Periodontal Disease
After evaluating your periodontal health, and assessing your condition, Dr. Kania can recommend appropriate action to manage your infection. With laser-based periodontal care, it is possibly to precisely clear away infected gum tissues, and encourage the growth of healthy tissues. We can also help you fight bacteria directly with ozone therapy, which is able to eliminate unwelcome microbial agents while preserving healthy bacteria in your mouth.
We Can Also Help You Prevent Issues With Your Gums
For people who have gingivitis, we can provide preventive care to stop more serious effects of gum disease from affecting you. Through scaling and root planing, we can carefully clear away those bacteria that have started to accumulate beneath your gums. Fighting this infection can return your mouth to good health, and even make it harder for future bacteria to gather!
Talk To Dr. Kania For Information On Fighting The Effects Of Gum Disease
At our Encinitas/San Diego, CA periodontal practice, Dr. Kania offers modern solutions for problems linked to periodontal disease! Fighting this condition is important – if left untreated, it can make it harder for you to maintain your general well-being. If you want to learn more, if you think you might be dealing with gingivitis or periodontal disease, or if you want to arrange a second opinion appointment with Dr. Kania, contact her office today at (760) 642-0711.