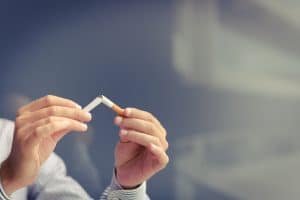 When you smoke cigarettes, or regularly use any other tobacco products, you engage in a habit that can create several serious problems for your general health. Our Encinitas/San Diego, CA periodontal practice can tell you how the use of tobacco affects a person's periodontal health in undesirable ways. By partaking in tobacco use, you can make your gums more vulnerable to infection, which can lead to difficulties with gum disease later in life. Because of this, we can provide support to make breaking the habit easier as we work with you to address problems that affect your gums.
Tobacco Use Can Create Real Problems For Your Health
When you use tobacco products like cigarettes, you can increase your risk for certain types of cancers, stain your teeth, and negatively impact your cardiovascular health. Your mouth is certainly one part of your body that can experience health troubles because of tobacco use. This substance can negatively affect the tissues that support your teeth, and make your gums more susceptible to the onset of gingivitis. At that point, your infection can progress to periodontal disease, which can create new health challenges, and make you more susceptible to tooth loss!
Arranging A Review Of Your Periodontal Health
If you have concerns about the health of your gums, our practice is ready to provide advanced diagnostic reviews to determine what kind of support you might require. We offer preventive services like scaling and root planing procedures that can help patients recover from gingivitis. If you need help with an advanced infection, we can review your treatment options.
What Can I Do If Periodontal Disease Has Become A Problem For Me?
Whether you have periodontal disease or not, cutting tobacco from your life can help you in many ways. Unfortunately, if you have already developed periodontal disease, you may have serious troubles with your gums that need to be addressed even if you have already dropped this habit! We can talk to you about different procedures like LANAP, which will see your periodontist remove unhealthy periodontal tissues to encourage the restoration of healthy gums. We can also address problems with ozone therapy, which will allow us to directly attack the harmful bacteria that have gathered under your gums. Our strategies focus on modern, minimally invasive work to stop bacteria from doing serious harm to your gums.
Dr. Kania Can Help You Understand The Link Between Tobacco And Periodontal Disease
At our Encinitas/San Diego, CA periodontal practice, Dr. Kania is ready to use modern treatment options to help patients recover from problems with gum disease. We can also talk to you about making positive changes in your life, like eliminating tobacco use, to better protect your periodontal health. To make an appointment with Dr. Kania,  contact her office today at (760) 642-0711.