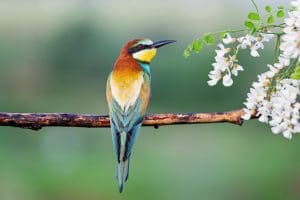 From Thursday, February 27 through Tuesday, March 3, this year's San Diego Bird Festival will take place! The event, put together by the San Diego Audubon Society, is occurring for its twenty-third year! The event will feature appearances from a number of experts, as well as special activities to take place throughout the event. With the right equipment, location, and timing, you can see a remarkable variety of bird species in our area. If you want to look for signs of gingivitis, you can look for them in the mirror – bleeding, redness, and swelling can all indicate infection. Our Encinitas/San Diego, CA periodontist's office is prepared to help you if you notice signs of trouble and what to discuss treatment options.
When:
This event will run from Thursday, February 27 through Tuesday, March 3.
Where:
Events will be hosted at the Marina Village Conference Center, located at 1936 Quivera Way, San Diego, CA.
Activities Include:
There will be several activities hosted during the event, including special appearances from invited guests. Support for this program will be used to help the San Diego Audubon Society in its mission to study and support birds in the area.
For More Information:
For more information about this upcoming special event, please click here.
Dr. Kania Can Help You Address Problems With Your Periodontal Health
Are you starting to worry that you have a real problem with periodontal disease? At our Encinitas/San Diego, CA periodontal practice, we are aware of just how serious an infection can become if it is not properly managed. Fortunately, we have several procedures that can help you protect your smile! We are also prepared to offer preventive support, as well as care for problems like tooth loss, which can result due to periodontal disease. If you wish to seek Dr. Kania's expertise, please contact her office today at (760) 642-0711.