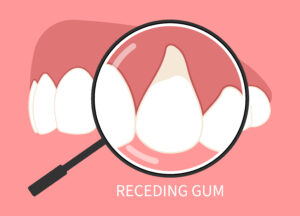 A gum graft can be used to address receding tissues, improving the health and beauty of your smile, and also fighting periodontal disease. But for a more conservative alternative to traditional gum grafts, we can offer the Pinhole Surgical Technique (PST). In today's blog, your Encinitas/San Diego, CA, periodontist talks about the PST system.
When Smiles Need a Gum Graft
For many people suffering from periodontal disease, the gingival tissues will begin to pull away from the teeth. As they do, this makes teeth appear longer and also expose more sensitive root structure, which in turn leads to tooth decay and even dental infection. You further risk the loss of your teeth and increase the chances of painful symptoms. A gum graft is used to cover the exposed portion of teeth and to improve the gum line. In the past, this meant taking tissues from other parts of the mouth and attaching them to the receded areas. But we can now offer a more comfortable option with PST.
The Pinhole Surgical Technique
The procedure uses lasers to make any adjustments to the gum and bone structure, and to remove diseased tissues for the smile with precision and accuracy, preventing damages to healthy portions of the gums. We then make a miniscule hole in the gums and add a special collagen material. Our team then manipulates the tissues until they cover the teeth. The procedure requires no need for scalpels or sutures, so the treated area heals quickly and you return to your normal routine much faster. The procedure brings your periodontal issue to a more manageable state to avoid tooth loss, and preserves more of your periodontal tissues too. We also take care to ensure your smile looks good afterward!
The Benefits of Your Smile
The treatment helps lower the risk of cavities and infections in the teeth, and allows us to manage your periodontal disease moving forward with traditional cleanings every three to four months, and other preventive options. You're now less likely to lose your teeth, and you can better protect the health and beauty of your smile too. If you have any questions about how our team can manage recession and disease with the PST system, or if you would like to schedule a consultation with our team, then contact our office today to learn more and get started.
Talk To Your Encinitas/San Diego, CA Periodontist About Grafting Procedure
Our team wants to help you manage your gum disease and protect your smile! If you would like to find out more about our laser treatment options, call Dr. Kania's office in Encinitas/San Diego, CA, at (760) 642-0711. Treating your periodontal concerns can help you enjoy a whole and beautiful smile for years to come.