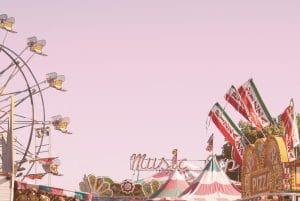 Are you ready to have fun this summer? Starting on Friday, May 31, families can take part in the fun of the San Diego County Fair! This year's fair is taking inspiration from The Wizard Of Oz, and providing everyone an opportunity see what kind of rides, games, and treats they can find while walking the Yellow Brick Road. San Diego boasts the largest county fair in the United States, and it can provide more than a few opportunities for fun you will be sure to appreciate! While carnivals offer plenty of treats that can test a person's resolve, remember that sweet and sticky foods can be big trouble for your oral health. These items feed those oral bacteria that can cause gum disease, which can lead to real problems for your smile. Fortunately, your Encinitas/San Diego periodontal specialist is prepared to help if you experience problems!
When:
The San Diego County Fair will open as of Friday, May 31! The fair will operate from then until July 4.
Where:
The fairgrounds are located at Del Mar Fairgrounds. The address is 2260 Jimmy Durante Blvd, Del Mar, CA.
Cost:
For information on fair tickets, click here.
Activities Include:
This year's fair theme is The Wizard Of Oz, so you can look forward to elaborate settings, colorful characters, and lots of family fun! Of course, you can also look forward to great entertainment in the form of rides, games, and tasty carnival treats.
For More Information:
For more information about this event, click here.
Count On Quality Periodontal Care From Dr. Kania!
Dr. Kania is ready to help individuals who are struggling with the effects of gum disease, as well as those who are looking to protect themselves against this smile threat. To arrange an appointment, and receive Dr. Kania's expertise, contact her office today at (760) 642-0711.