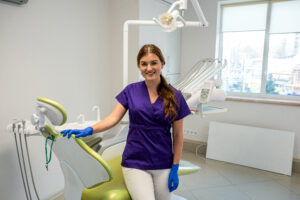 As problems with your periodontal health worsen, there are several complications you need to worry about that can impact your appearance and well-being. Controlling the accumulation and spread of harmful bacteria will be important. Fortunately, your Encinitas/San Diego, CA periodontal practice can target those unwelcome microbes while still preserving your mouth's natural ecosystem! Through ozone therapy, we can offer a holistic treatment solution for your condition, one that will rely on oxygen to target bacteria that cause trouble for your gums. This is just one of many services that we can recommend to patients; after evaluating you, we can let you know what we recommend for addressing your individual issues with periodontal disease!
We Can Use Oxygen To Provide Holistic Care For Periodontal Disease
Anaerobic oral bacteria that build up on the roots of your teeth can cause worsening problems for your periodontal health. The first stage of an infection, gingivitis, can be reversed with the performance of preventive scaling and root planing. However, when the problem becomes more serious, it can take more advanced care to control. Without the right support, you run the risk of losing teeth as connective tissues and gums are damaged, and you can experience new problems as bacteria enter the bloodstream and create problems in other parts of the body.
What Ozone Therapy Does For Your Gums
Holistic treatment options can provide natural solutions for gum disease that help you protect yourself from potentially serious health problems. One option is to take on an infection through ozone therapy. This relies on oxygen in concentrated liquid or gas forms. The use of oxygen allows us to effectively target harmful bacteria but leave the healthy microbes unaffected. Because we are able to sustain your mouth's healthy ecosystem, we can make recovery easier.
We Can Help Make Sure You Have The Right Treatment For Your Gums
A thorough diagnostic review of your gums can tell us just how serious your infection is, and it can help us determine what kind of support you should arrange. We can discuss the advantages to starting preventive treatment in the form of scaling and root planing or supportive periodontal maintenance. We can also look into beginning more involved care, including periodontal treatment that relies on laser technology.
Talk To Your Encinitas/San Diego, CA Periodontist About Ozone Therapy!
Periodontal disease can have a significant effect on your overall health if it is not managed properly. What might surprise you is how much good holistic treatments options can be for dealing with your infection! Ozone therapy relies on oxygen to target unwelcome bacteria while leaving healthy microbes untouched. This means we can restore your health while taking care to preserve your mouth's natural ecosystem! If you would like to find out more, please call Dr. Kania's office in Encinitas/San Diego, CA, at (760) 642-0711.