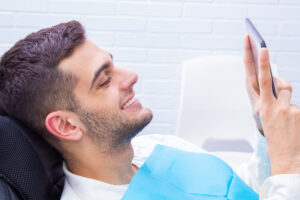 If you have concerns about your gum health and do not seek help, you can leave yourself at risk for serious problems. The infection you are dealing with will continue to create problems for you, which can lead to issues with tooth loss and even problems for your general health. It is important that this problem is both taken seriously and dealt with properly. At our Encinitas/San Diego, CA periodontal practice, we can offer support so that your gums are protected. We offer advanced treatments that directly address more serious infections. With that said, we can also help when you seek care in time to benefit from preventive periodontal services.
Why You Should Be Worried About Periodontal Disease
The harm done by periodontal disease should not be understated. Tissue damage caused by the bacteria on the roots of your teeth can eventually lead to instability that makes extractions necessary, or may even cause teeth to fall out on their own. People who are not taking action against their condition also have to worry about the onset of general health issues from bacteria that enter your bloodstream and create new difficulties. After a diagnostic review of your periodontal health, our practice can recommend effective solutions to help you manage your threat and protect your smile and well-being.
Treatment Options For Periodontal Disease
There are different solutions to active problems with periodontal disease. We can use laser tools to remove periodontal bacteria and infected tissues so that you can recover from an infection. The advantages to employing laser technology in this care is that we can limit tissue damage and bleeding, and we can make your recovery shorter and easier. We also offer holistic treatments that rely on oxygen and even the platelets our bodies use for natural healing in order to help you recover from the effects of your condition.
We Can Also Provide Important Preventive Measures
If we find that your periodontal problems are not serious enough to require more advanced care, we can discuss help in the form of preventive services that address gum health. A scaling and root planing will remove bacteria that are present on the roots of teeth. For patients who are trying to address a history of periodontal problems, we can offer help in the form of supportive periodontal maintenance, a series of cleanings that can take the place of traditional dental cleanings.
Talk To Your Encinitas/San Diego, CA Periodontist About Your Gum Health!
By discussing your periodontal health with Dr. Kania, you can learn more about your condition as well as about the treatment options that exist to manage it. If you would like to find out more about how we can support you, please call Dr. Kania's office in Encinitas/San Diego, CA, at (760) 642-0711.