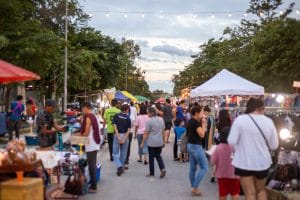 During the LeucadiART Walk Event, visitors and Encinitas residents can gather to enjoy an array of artworks, plus refreshments, live entertainment, fun kids' activities, and more! This is a revival of a classic art event hosted in the Leucadia community, one that now welcomes thousands to enjoy a wonderful celebration of creativity and local history. This year's event takes place on August 25, and is FREE to attend! When you care about a place, you can be inspired to create events that the public will love. When you care about your smile, you should be attentive to the needs of your teeth, AND your gums. At our Encinitas/San Diego, CA periodontal practice, we can help you protect your gums against destructive periodontal disease.
When:
This event is taking place on Sunday, August 25, and will run from 10 am until 5 pm.
Where:
The LeucadiART Walk is happening at N Coast Hwy 101, Encinitas, CA.
Cost:
This is a FREE event for people to attend!
Activities Include:
You can watch artists create murals, check out juried art pieces, and take the kids to a special play area set up just for them! There will also be food and drinks available, and live music to enjoy.
For More Information:
For more information about this upcoming special event, please click here.
Take Advantage Of Modern Periodontal Care From Dr. Kania!
Is your smile facing a threat from periodontal disease? If you do not take proper care of your gums, the effects on your smile – and your general health – can be serious! At our Encinitas/San Diego, CA periodontal office, Dr. Kania is proud to offer modern procedures that help patients fight back against periodontal infection. We can also help you prevent problems, and preserve the health of your gums. If you have questions, or if you are ready to seek Dr. Kania's expertise, contact her office today at (760) 642-0711.