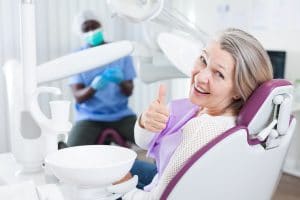 When you have concerns about the health of your gums, you should take them seriously. If you do not receive the appropriate care for issues connected to periodontal disease, you can wind up developing persistent problems that are hard to manage. Over time, a person struggling with periodontal disease can become more vulnerable to heart troubles, and other general health issues. They can also have a heightened risk for tooth loss! If you want to follow up on initial concerns about your periodontal health expressed by your dentist, make an appointment at our Encinitas/San Diego, CA periodontal practice. At our office, we can talk to you about your condition, and explore the benefits of modern treatment to protect your gums, and your smile!
Have A Periodontal Specialist Examine The State Of Your Gum Health
Thanks to the diagnostic imaging technology at our practice, we can carefully evaluate your periodontal health. The initial stage of periodontal problems, gingivitis, can be reversed if it is addressed in time. Through preventive periodontal care, the infection can be appropriately resolved. Unfortunately, more advanced periodontal disease can be more difficult to deal with, and ongoing preventive care can be called for. Your second opinion review can give you a clearer idea of what your situation is, and what it might take to keep your gums in the healthiest possible state.
We Offer Modern Treatment Solutions For Periodontal Disease
If your periodontal disease is doing damage to the periodontal and bone tissues supporting your teeth, we can talk to you about how the problem can be managed. Laser-assisted periodontal treatment allows us to carefully remove infected tissues, so that healthy tissues can grow. We can also provide targeted protection against harmful microbes by offering ozone therapy. These services make it easier to maintain your smile, and keep an infection in check. We can also provide supportive periodontal maintenance on a quarterly basis to stop your infection from worsening.
Discussing At-Home Periodontal Care With Your Periodontist
In addition to taking care of your smile at our practice, we can offer tips on how you can improve your efforts to manage an infection at home. This can include tips on more effective oral hygiene practices, which make it easier to remove bacteria buildup at your gum line. We can also provide you with Perio Protect, which lets you apply antimicrobial agents directly to your gums at home!
Set Up A Second Opinion Appointment With Dr. Kania To Address Periodontal Concerns
A second opinion appointment to discuss your periodontal health is important, as it allows you to learn more about the potential threat of periodontal disease, and what your treatment options are! Dr. Kania provides dedicated support against gum disease to many people in and around the Encinitas/San Diego, CA area. To seek Dr. Kania's expertise, contact her office today at (760) 642-0711.