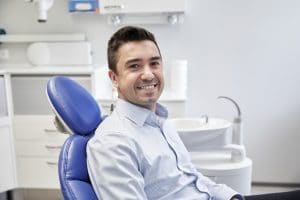 Harmful bacteria that infiltrate your gum line can create big problems for your oral health, your smile, and even your general health! Periodontal disease results when bacteria gather under your gums, and create a harmful infection. If nothing is done about this problem, it can make other health issues harder to manage, and it can increase your problems for your heart health. Unresolved trouble with periodontal disease can also lead to tooth loss over time, as the tissues supporting your teeth are destroyed. At our Encinitas/San Diego, CA periodontal practice, we can offer different treatment options that allow you to manage an infection, and protect yourself against its destructive effects.
Removing Bacteria Below Your Gum Line During A Scaling And Root Planing
If you start to notice signs of gingivitis, or if you are looking for ongoing support to manage periodontal disease, arranging a scaling and root planing can be beneficial. This procedure will see portions of your teeth below the gum line thoroughly cleaned. In addition to removing destructive microbes that have gathered in these spaces, your teeth will be smoothed – this will make it more difficult for future bacteria to gather.
Using Ozone Therapy To Eliminate Harmful Microbes
By applying concentrated oxygen, or ozone, destructive bacteria that have gathered in your gums can be properly managed. Ozone can be administered in a liquid form, or a gas form during this procedure, which will help to control your infection, and defend you against the destructive effects of bacteria. While unwelcome bacteria can be dealt with through this treatment, beneficial organisms present in your mouth will not be destroyed. Ozone therapy can make it easier for you to continue your recovery from the effects of an infection.
You Can Take Home Perio Protect, And Continue Fighting Bacteria
You can take important periodontal care home with you by picking up Perio Protect from our practice! Perio Protect includes special agents that fight the harmful bacteria causing your periodontal infection, as well as a tray that makes these materials easier to administer. By performing treatment at home, you can have an easier time protecting yourself against your infection, and control how periodontal disease affects your quality of life.
Talk To Dr. Kania About Dealing With Your Periodontal Bacteria
Dr. Kania is ready to help people fight back against periodontal disease! In addition to helping you prevent problems with your gums, and helping you restore healthy tissues, we can provide support to directly fight the harmful microbes that are causing your problems. If you have questions about our procedures, or if you think something might be wrong with your gums, let us know! To make an appointment at our Encinitas/San Diego, CA periodontal practice, and benefit from Dr. Kania's expertise, contact her office today at (760) 642-0711.