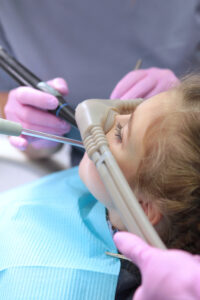 When you undergo treatment at our office, we can address minor or severe gum disease to help improve your smile. This can not only stop uncomfortable symptoms, but also help prevent tooth loss. To ensure these treatments are comfortable for our patients, and that our anxious patients feel calm, your Encinitas/San Diego, CA, periodontist talks about dental sedation.
When Patients Need a Calming Solution
We recommend dental sedation for people undergoing treatment, or for those with dental anxiety. We understand that for some, severe anxiety could prevent them from undergoing the treatments necessary to enjoy optimal oral health. These calming solutions could also help those with special needs as well. The option we recommend will depend on a number of different factors, including anxiety levels, age, weight, medical history, and more. We will have trained anesthesiologists on hand to monitor you throughout the procedure.
Three Options
Our team offers three different options to help people enter a calm and relaxed state. The first is commonly known as laughing gas. Nitrous oxide is administered through a mask over the nose, and the patient inhales the gas to immediately enter a calm state. The effects probably last as long as the procedure, so patients can often return to work or school or even drive themselves home.
For a deeper state of relaxation, we could also offer oral sedation. Given in a pill or liquid form prior to the procedure, this offers a deeper calming. Patients often have little to no memory of the procedure. The effects take time to wear off, so be sure to arrange for a friend or family member to bring you home afterward. We may recommend avoiding food and drink for a set number of hours before the sedation is administered.
The deepest state of relaxation possible is with IV sedation, which is administered through an IV. A trained anesthesiologist will monitor your levels and heart rate throughout the procedure, and this will leave you with no memory of the procedure. Again, the effects take time to wear off completely, so you need someone to take you home afterward.
Regardless of which option we use, we will provide detailed aftercare instructions and prescriptions for any necessary medications. If you have any questions about our use of sedation, or if you would like to schedule your next periodontal visit, then contact our team today to learn more.
Talk To Your Encinitas/San Diego, CA Periodontist About Our Calming Options
We would like to help you enjoy optimal gum health with periodontal treatment. If you would like to find out more about how we improve the health of your smile comfortably, then call Dr. Kania's office in Encinitas/San Diego, CA, at (760) 642-0711.