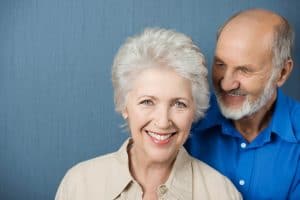 With the right treatments, it is possible to control the effects of periodontal disease, and avoid the complications this condition can cause. One of those complications, tooth loss, is certainly something you want to avoid. Unfortunately, many people who are fighting the impact of periodontal disease will experience the loss of at least one tooth. In addition to helping you control your problems with gum disease, our Encinitas/San Diego, CA dental practice can provide dental implants to help you deal with tooth loss that has already happened. Dental implants serve as a support system for dental prostheses, and they can help you feel more confident in your smile, as well as in your capacity to bite and chew comfortably.
Dental Implants Offer Important Support For Dental Restorations
Dental implants provide lasting support for the restorations that will go in place of missing teeth. The implant itself is situated in your jawbone, in the same area where your now-absent tooth root once resided. The relationship between an implant and a restoration mirrors the relationship shared by a root, and the crown (visible portion) of a tooth. An implant provides stability that makes a prosthetic capable of absorbing biting and chewing pressure, and it can help you remain more comfortable in general.
Receiving Your Dental Implants
A diagnostic examination will take place before moving forward with plans to restore your smile through implant placement. The review performed will allow us to determine exactly where your implant needs to reside. It also helps by determining if you need any work done to make sure your placement will be successful. That may include a gum graft, or a graft to support your jawbone. When your implant placement occurs, you will receive local anesthesia as well as a dental sedative to make the experience easier. After the implant is set, you will have a healing period where your jawbone will actually fuse to it, creating a remarkably strong bond.
We Can Help You Prevent Issues With Tooth Loss Caused By Gum Disease
While you can certainly benefit from a dental implant-held restoration after tooth loss, we want to help you avoid this problem. Through the right periodontal treatments, we can help you preserve remaining teeth, and stop periodontal disease from creating further trouble for you. Those services can include ozone therapy, and periodontal maintenance, to remove harmful bacteria. We can also perform PRP therapy to help you recover healthy gum tissues.
Talk To Dr. Kania About Receiving Dental Implants
Dr. Kania is prepared to help you deal with tooth loss by providing you with a stable, reliable dental implant, or even multiple implants to help with more significant tooth loss. You can find that with this added support, a dental restoration can provide more than just a cosmetic improvement for your once-incomplete smile! To make an appointment with Dr. Kania, contact her office today at (760) 642-0711.