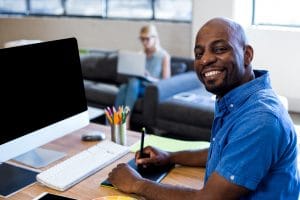 The health of your gums can impact you in ways that you might not expect. One thing you should know is that complications from periodontal disease actually lead all other causes for adult tooth loss. In other words, if you want to keep your teeth, pay attention to your gums! You should also know that the health of your gums can have an influence on your overall health, and an infection can increase your risk for problems like heart disease. Our Encinitas/San Diego, CA periodontal practice can provide a thorough diagnostic review of your periodontal health. If you are concerned that gum disease is affecting you already, or if you want to put a stop to problems before they progress, a review can provide the information you need to know what should be done for your periodontal health.
Should You Schedule Time To Visit With A Periodontal Specialist?
If your dentist is concerned about the condition of your gums, or if you notice changes to the tissues that alarm you, scheduling a periodontal appointment can be a good idea. With advanced imaging technology, Dr. Kania is able to closely study what condition your gums are currently in, and talk to you about possible treatment. The right information can be valuable – if you have issues with gingivitis, your condition can be reversed through appropriate preventive periodontal care. For those who have to worry about periodontal disease, modern treatments can be effective at restoring and maintaining these tissues.
Modern Diagnostic Tools Can Provide Important Details About Your Periodontal Health
We use advanced imaging technology to closely study a person's periodontal tissues. Digital images are useful for taking a close, vivid look at your gums. In addition to using them for review purposes, your periodontist can also show them to you to provide clarity on your health. These tools also make it easier to perform an effective review of areas that might be difficult to check through visual evaluation alone.
What Happens If My Gums Appear Unhealthy?
Once your review is performed, we can talk to you about possible treatments. We are proud to use modern tools to make care effective, and remarkably patient-friendly. Damaged tissues can be carefully removed by soft tissue lasers employed during periodontal care. These lasers make treatment more accurate, and also encourage faster recovery. We can also provide platelet rich plasma therapy to help patients regrow healthy tissues. Through smart, modern care, we can protect you from the potentially serious effects of periodontal disease!
Schedule A Thorough Review Of Your Periodontal Health With Dr. Kania
At our Encinitas/San Diego, CA periodontal practice, Dr. Kania is ready to give you a thorough review regarding your periodontal health. Modern diagnostic tools allow us to carefully assess the state of your periodontal health, and recommend treatments when necessary. To seek Dr. Kania's expertise, contact her office today at (760) 642-0711.