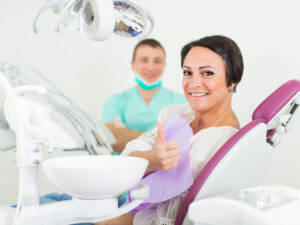 The harm done by periodontal disease should not be ignored or overlooked. Trouble with your gums raises your risk for tooth loss, and improperly managed infections can lead to complications that impact your general well-being as well as your oral health. At our Encinitas/San Diego, CA periodontal practice, we are here to help patients who start to experience the effect of an advanced infection. One issue that we can address is the destruction of gum tissues due to an infection. To help you recover, we can provide platelet-rich plasma therapy, or PRP therapy. This is a treatment that uses your body's natural healing process to stimulate growth and recovery, making this a more holistic means of addressing problems.
The Effects Of Periodontal Disease Should Not Be Ignored
If you have problems with periodontal disease, it is important that you take them seriously. Not doing so can lead to complications that seriously impact your general health and smile. Tooth loss is something you can experience. You can also have a harder time managing conditions that impact your general well-being. If you seek help from a periodontal specialist in time, you can benefit from preventive services that stop complications from occurring. However, if you do not look into this support in time, you can require assistance in managing the various complications of poor gum health.
Using PRP Therapy To Stimulate Tissue Growth And Recovery
If something needs to be done about the tissue damage that has occurred because of poor periodontal health, we can recommend that you undergo PRP therapy. With this treatment, you can fight the damage to tissues with applications of platelet-rich plasma. Plasma is used by the body for tissue repair and recovery. By using a natural recovery agent, we can provide a treatment experience that is patient-friendly and natural while still encouraging exciting improvements!
Exploring All Of Your Options For Care If You Have Issues With Gum Disease
Based on a diagnostic review of your gums, we can discuss different services we offer that can help you. To fight periodontal bacteria, we can recommend different preventive services that target microbes that are present on your teeth roots, including services with concentrated oxygen. Using oxygen in this way is beneficial because it will address harmful bacteria while preserving the microbes that contribute to a healthy mouth. We can also discuss more involved forms of care, including options like laser periodontal treatment.
Talk To Dr. Kania About Responding To Periodontal Tissue Damage
If problems with advanced gum disease have done damage to your periodontal tissues, we can help! PRP therapy is one of many services that we provide to people who need to control problems with an advanced infection. To find out more, call Dr. Kania's office in Encinitas/San Diego, CA, at (760) 642-0711.