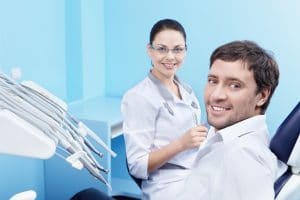 If you receive unhappy news about your periodontal health from your general dentist, you can understand the threat of gum disease, but not the options that are still available to you. With a second opinion appointment at our Encinitas/San Diego, CA periodontal practice, you can receive detailed information about your periodontal health and learn what treatment options are worth exploring. Our practice relies on diagnostic imaging technology that lets us closely study the current condition of your gums. With this detailed images, we can determine if there is still time to prevent periodontal disease through services like scaling and root planing, or if we should discuss other services to help control your condition and protect your gums.
What Can You Gain From A Second Opinion About Your Periodontal Health?
A general dental visit can provide you with regular feedback about the state of your periodontal health. However, if you regularly receive warnings about gingivitis, or if you are told you have more significant problems with periodontal disease, you can benefit from talking about your gums with a periodontist. Our practice is committed to helping people avoid the long-term consequences of poor periodontal health. After an examination gives us information about your health, we can see what treatment options might be right for you!
Our Diagnostic Technology Helps Us Closely Study Your Gums
With advanced diagnostic imaging technology, we can closely study your gums to see how bacteria might have affected their health. With this review, we can determine if you still have time to prevent gingivitis from worsening into periodontitis, or periodontal disease, or if you benefit more from services that control this condition.
Our Treatment Options For Fighting Gum Disease
When we know more about your periodontal health, we can discuss the services we offer patients, and how they might help you keep your condition under control. Managing an infection will be important – without the right treatment, periodontal bacteria can destroy tissues that support teeth, leading to tooth loss. They can also move to other parts of your body and create new problems for your well-being. We can recommend laser treatments to fight bacteria and remove infected periodontal tissues. We can also make recommendations for treatments like ozone therapy or Supportive Periodontal Maintenance to tend to harmful bacteria. If your problems have already led to tooth loss, we can even work with you on plans to fully restore your smile with the aid of dental implants!
Talk To Dr. Kania If You Want A Second Opinion About Your Periodontal Health
If you are growing concerned about your history of poor periodontal health, or if you have received warnings about periodontal disease, Dr. Kania is ready to help! If you would like to find out more about our practice, please call our periodontal office in the Encinitas/San Diego, CA area today at (760) 642-0711.