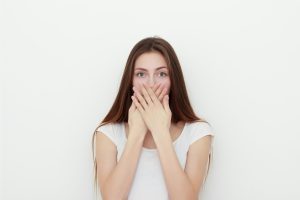 When gingivitis is addressed in a timely manner, you can avoid potential complications that can affect your periodontal health and general well-being. Unfortunately, not everyone receives treatment in time, and that can lead to worrying complications. At our Encinitas/San Diego, CA periodontal practice, we can help you manage problems with periodontal disease. After a diagnostic review, we can see what kind of support you require. In addition to supportive services to prevent complications, we can offer more involved care, including lasers to fight bacteria and remove diseased tissues. When problems are caught in time, we can also provide preventive services to help you avoid more serious problems.

A Periodontal Infection Can Create Serious Issues For Your Overall Health
Gingivitis is the first stage of an infection that affects your gums. Taking care of your smile with good daily care and regular dental checkups can help you avoid problems with gum disease that might form. When more serious problems do arise, we can make plans to help control an infection and keep problems from growing worse. A poorly managed infection can lead to tissue damage that results in tooth loss, and it can lead to the movement of bacteria to other areas, which can lead to new health concerns.
Dealing With A Severe Infection
A problem with periodontal disease is not something to take lightly, as it does raise your risk for tooth loss, and it can even raise your risks for problems with your general health. If necessary, we can provide more involved care, including treatments with laser technology to remove bacteria and diseased tissues. We also offer services like ozone therapy, which can target harmful microbes while leaving healthy bacteria to support your mouth's ecosystem.
Addressing Problems With Your Periodontal Health Through Supportive Services
Through supportive periodontal maintenance, we can help you control problems with an infection from growing worse and causing complications. Based on a diagnostic review of your gums, we can determine how often you should come in to receive these kinds of services. These maintenance sessions remove bacteria buildup to stop complications from occurring.
Talk To Your Encinitas/San Diego, CA Periodontist About Your Gum Health
You should take the health of your gums seriously, and you should act quickly to address active problems when they arise. One benefit to seeing a periodontist about your gum health is that you can learn about different services that help people with different concerns about their well-being. We provide a range of care, from preventive services that help you avoid complications to more involved care to remove diseased tissues and control the spread of bacteria. If you would like to learn more, call Dr. Kania's office in Encinitas/San Diego, CA, at (760) 642-0711.