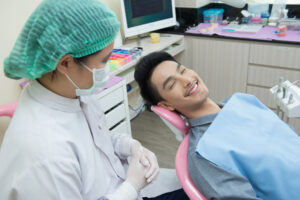 Every time you brush and floss your teeth, you have the opportunity to protect your gums against an infection. Thorough care is important because you need to reach every part of your smile, including the spaces where your teeth and gum line meet. For patients who are already struggling with periodontal disease, or need to address gingivitis before their condition worsens, professional treatment can be helpful. At our Encinitas/San Diego, CA area periodontal practice, we can provide a scaling and root planing to remove the harmful microbes that are already present under your gum line. The process does more than just remove the immediate threat, as we can smooth the tooth structure and make it more difficult for new bacteria to gather and accumulate.
The Trouble With Bacteria Buildup On Your Teeth Roots
The unhealthy bacteria that gather on the roots of your teeth cause issues that can worsen in time. Timely treatment for gingivitis can help you avoid complications from a more severe issue with periodontal disease. When the matter is not dealt with, you can experience worsening complications over time. These issues include problems with tooth loss and general health issues, making it a more significant problem than people may realize.
With the right oral hygiene routine and good general habits, you can lower your risk for these problems. However, when they do become an active concern, a visit with a specialist can help. Our practice can provide a number of advanced services, but we can also help when more conservative forms of care, like scaling and root planing, are appropriate.
How Scaling And Root Planing Fights An Active Infection
Through scaling and root planing, we can clear away the bacteria that have gathered on the roots of your teeth. Their removal means they are no longer present to cause health problems for your gums, giving them a chance to heal. In addition to removing the microbes that are already present, we can polish your tooth structure to make it harder for new bacteria to build up.
Managing Periodontal Problems Through Regular Preventive Treatments
To protect patients with a history of trouble with their gum health, we can recommend starting supportive periodontal maintenance treatments. During these appointments, oral bacteria will be thoroughly removed in order to stop new problems from arising. Patients are often recommended to arrange these sessions every three months to avoid complications and maintain their well-being.
Talk To Your Encinitas/San Diego, CA Area Periodontist About Scaling And Root Planing!
Through scaling and root planing, we can deal with the buildup of bacteria on the roots of teeth. Reaching these areas underneath your gum line will help to control problems with poor periodontal health and give you protection against the effects of gum disease! If you would like to find out more about how our services can help you manage your condition and maintain your health, call Dr. Kania's office in Encinitas/San Diego, CA, at (760) 642-0711.