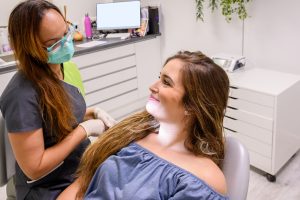 Periodontal disease can cause you more serious health problems than you may realize. In time, people who have trouble with their periodontal health can experience difficulties with tooth loss, and they can have a more difficult time managing their general health due to interference from an infection. At our Encinitas/San Diego, CA periodontal practice, we can work with you to manage your condition an avoid these difficulties. As part of your treatment, we can perform a thorough diagnostic review to understand what problems you are facing, and what treatment options might be right for you.

Periodontal Problems Can Affect Your Overall Health
Gum disease can interfere with your overall well-being in more ways than you might realize. This condition is linked to tooth loss, which can have a negative impact on your appearance, interfere with your diet, and generally hurt your quality of life. Problems with periodontal disease can make you more vulnerable to general health problems, and your infection can also make managing other active health problems more difficult. It is important that you take periodontal disease seriously. Fortunately, our practice can help you manage your condition and prevent complications.
Using Laser Technology To Address Gum Disease
Periodontal treatments with lasers can have many benefits. By using lasers to remove diseased gums and ligaments, and to clear away the bacteria gathered on the roots of your teeth, we can help you recover from an infection. We have multiple laser tools, so we can help personalize your treatment approach. Lasers also have a beneficial role to play in grafting procedures, which can help restore your appearance and prepare you for prosthetic dental work.
Other Services That Help Manage Poor Periodontal Health
Different services can address different concerns raised by periodontal disease. To directly target the unhealthy bacteria responsible for your infection, we can provide ozone therapy. This treatment uses concentrated oxygen to help you manage your condition. We also offer PRP therapy, a holistic treatment to encourage tissue restoration. Platelets in our plasma are a natural part of our healing process. This treatment uses higher concentrations of platelets in plasma to help with a focused recovery effort!
Talk To Your Encinitas/San Diego, CA Periodontist About Managing Your Condition
After evaluating you to learn what periodontal disease has done to you, our practice can provide important information on the condition itself and how it can be managed. There are several procedures that we provide, including advanced services with lasers that fight bacteria and encourage your body's natural recovery to replace diseased and damaged tissues. For more information, please call Dr. Kania's office in Encinitas/San Diego, CA, at (760) 642-0711. In addition to supporting patients with more severe cases of gum disease, we can offer guidance to those who are trying to prevent problems from growing serious by offering preventive services.