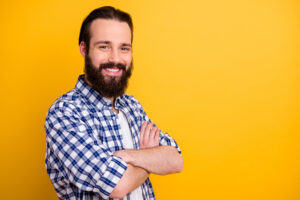 If you want to make sure that your smile stays attractive, there are several issues with your oral health that you should watch out for over time. Problems with dental discoloration and damage to your enamel can certainly hurt the way you look. You can also experience cosmetic problems because of issues with your periodontal health. Issues with your gums can lead to tissue recession that makes your smile uneven and leaves your teeth looking too long. Over time, periodontal disease can cause serious tissue damage that builds to problems with tooth loss, a significant unwelcome change to your appearance. Your Encinitas/San Diego, CA periodontist can help you avoid or treat these issues so that you can stay comfortable with your appearance!
The Effects Of Advanced Gum Disease Can Affect The Way You Look
Problems with periodontal disease can take a significant toll on your well-being and appearance. There are issues with your health that can worsen if your gum health is not managed. Bacteria on the roots of your teeth can move to other parts of your body when they move through your bloodstream, which can create new complications. It can also damage tissues that lead to teeth becoming less secure, and that makes you more vulnerable to tooth loss. Between tooth loss and changes in your gum line, it can be hard to ignore the impact that your infection is having on your smile. Fortunately, you can count on your periodontist to provide both preventive services to protect you from these concerns as well as treatments to address their current impact.
Dealing With Gum Line Recession
Gum line recession can make your teeth look uneven and unattractive as the problem exposes their roots. In addition to hurting your appearance, this issue can make you more vulnerable to dental sensitivity and trouble with bacteria. Through a gum grafting treatment with laser technology, we can move tissues back into their appropriate levels with a less invasive form of care that does not require suturing!
Gum Disease And Tooth Loss
The problems associated with tooth loss should not be taken lightly. In addition to hurting your appearance, it can cause difficulties for your bite function and oral health, and it can lead to the deterioration of your jawbone tissues. Through the placement of dental implants, we can provide support for replacement teeth we put in position so that you can bite, chew, and speak more comfortably, and so that you can regain confidence in your smile!
Talk To Your Encinitas/San Diego, CA Periodontist About The Benefits Of Care For Your Smile
Through the right services from your periodontist, you can regain confidence in your smile as well as your oral health! To find out more, call Dr. Kania's office in Encinitas/San Diego, CA, at (760) 642-0711.