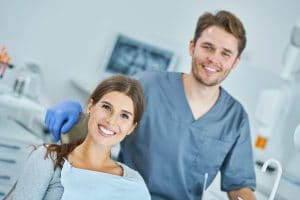 The need to keep people protected against the coronavirus outbreak has caused a wave of changes in how businesses and individuals think about safety. Our Encinitas/San Diego, CA periodontal practice has always taken care to make our office a safe space for the services we provide. We continue to maintain an environment where our patients and team members can feel safe and protected. By implementing new measures to better guard everyone, we are able to continue providing services for those who need treatment for periodontal disease. Without proper care, your condition can create serious problems for your oral health and overall well-being. With the right treatments, we can address damage from your infection and help you avoid potential issues like tooth loss!
Maintaining A Safe Environment Is Always Important
To protect our patients, we have always taken care to maintain an environment that guards against potential infection issues. In order to continue providing a safe space while there are active coronavirus concerns, we have made changes to our scheduling and to the office itself. By doing so, we are controlling risks and ensuring that both our team members and patients can show up and feel safe.
What We Are Doing To Keep People Safe From Infection
To control potential patient interactions, we have spaced out our scheduling and taken care to remove items from our waiting room that people tend to handle. There will also be sanitizing stations available for use. To protect our office environment, new technology, including air purifiers that are able to deal with viruses, are in place. We will continue to follow the guidance of the ADA and CDC and make any recommended adjustments as new information is learned and shared.
Periodontal Disease Can Cause Serious Problems – We Are Here To Help!
When poor periodontal health goes untreated, the consequences can be serious. Bacteria under your gums can destroy the tissues that keep your teeth in place, leading to tooth loss issues. Infections can also have a negative impact on your overall health when bacteria spread through your bloodstream. If your condition is severe enough to cause long-term problems, we can discuss different services, including laser periodontal treatment, to combat its effect on you. For those who are hoping to prevent problems with gingivitis from worsening, we can discuss preventive periodontal care.
Schedule Periodontal Care With Dr. Kania!
Patients at our periodontal treatment facility can count on our continued support, which includes a commitment to maintaining a safe environment for everyone. To learn more about how we keep patients safe, and what we can do to help individuals struggling with gum disease, you can reach out to Dr. Kania's periodontal office in Encinitas/San Diego, CA, at (760) 642-0711.