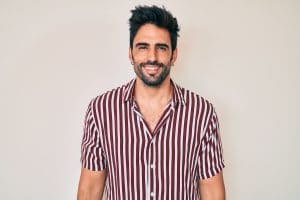 At the start of the new year, many of us will take a moment to both look back and look forward as we determine the right resolutions for 2021. One thing to consider as you start to think about changes you can make is how your actions affect your dental and periodontal health. If you have experienced issues with gingivitis in the past, know that an infection can become more serious if it is not resolved in time, and that periodontal disease can have worrying consequences. Our Encinitas/San Diego, CA periodontal practice can help you deal with the effects of periodontal disease. We are also able to provide preventive services in the form of scaling and root planing to stop gingivitis from growing more serious, and through guidance to better protect your gums.
Cut Tobacco Products Out Of Your Life
One way to reduce your problems with gum disease is to remove tobacco use from your life. Tobacco products can have many negative effects on your general and oral health. One issue that users have to contend with is an increased vulnerability to gum disease. When you put cigarettes and other tobacco products behind you, protecting yourself against periodontal problems becomes easier!
Look For Ways To Improve Your Daily Oral Hygiene Routine
The care you put into protecting yourself against tooth decay should give you an important line of defense against gum disease, too. Better brushing habits can protect your gum line by keeping plaque and tartar from accumulating. You also keep yourself safe against periodontal disease when you floss. To floss effectively, you should bring the string down to the base of your teeth and work to remove bacteria that can access your gum line.
Make Sure You Know The Symptoms Of Gingivitis To Watch For
If you want to avoid problems with advanced periodontal problems, make sure that you know how to identify signs of gingivitis. When you recognize that something is wrong, it can motivate you to improve your brushing and flossing routine, and it can be a sign that you should make sure your next dental exam is scheduled. Look out for issues like gums that bleed easily, trouble with swollen or discolored tissues, or gum line recession. With the diagnostic imaging technology at our practice, we can help patients by identifying the severity of their gum disease and recommending treatment!
Dr. Kania Is Ready To Help Patients Stay Safe From Gum Disease!
The right approach to preventive care can help you avoid problems with gum disease. If you have reason to think your gums are already in poor health, our periodontal office can help! To find out what we can do for you, please call Dr. Kania's office in Encinitas/San Diego, CA, at (760) 642-0711.