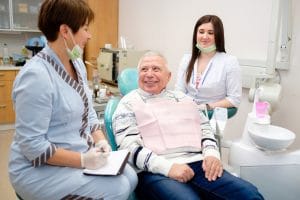 While tooth loss in adults is most often caused by problems linked to periodontal disease, this is just one of many problems that can leave your smile incomplete. At our Encinitas/San Diego, CA periodontal practice, we understand that losing just one tooth can be devastating to your confidence, and it can cause frustrating interference with your ability to bite and chew food. If your smile is currently impacted by tooth loss, you should know that dental implant-held restorations can offer important benefits. You can feel comfortable with your appearance again, while also enjoying support for your dental function. You can make an appointment to discuss implant placement, and discover how we can help restore both your appearance and bite.
Will I Need To Undergo Any Treatments Before My Dental Implant Placement?
Sometimes, it is necessary to address certain oral health concerns before moving forward with a dental implant placement. For example, your periodontist may observe signs of continued infection of your gum tissues that have to be addressed before you can receive your implant. We provide modern services for periodontal treatment that are effective and patient-friendly, so we are prepared to help you in this situation.
Securing A Dental Implant (Or Implants)
While a single implant can help with isolated tooth loss, it is sometimes appropriate to place more than one in order to hold a larger prosthetic. With the diagnostic imaging technology at our practice, we can identify where an implant (or several implants) should go, and also determine how an implant should be angled to best hold a restoration. After completing the implant placement procedure, your jaw will need time to heal. Once that healing period concludes, your dentist can supply a custom appliance that gives you back your full smile!
Protect Your Periodontal Health To Avoid Tooth Loss In The Future
If you want to avoid losing more teeth, you should take your periodontal health seriously. After all, gum disease complications are the most likely reason someone will lose their teeth over time. We are ready to help you by providing preventive periodontal services, as well as information on better hygiene habits.
Talk To Dr. Kania About Dental Implant Placement
At our Encinitas/San Diego, CA periodontal practice, Dr. Kania has experience working with patients who want to regain their complete smile. After performing an important review, we can work out a plan to place the appropriate number of dental implants to hold a restoration that replaces your missing teeth. Our practice is also here for you if you need to address an active problem with periodontal disease, or if you are trying to avoid the threat of an infection. If you wish to find out more, or to set an appointment, call Dr. Kania's periodontal practice today at (760) 642-0711.