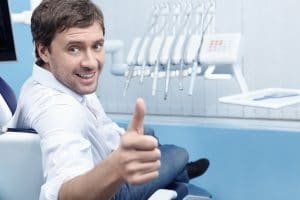 Maintaining a safe and healthy environment for patients has always been a priority for our Encinitas/San Diego, CA periodontal practice. With increased concerns for public safety related to Covid-19, we have worked to make sure that all of our patients feel safe and secure in our office. By keeping patients apart, maintaining a safe space in our waiting area, and using advanced tools to filter potentially harmful microbes in our office, we can make sure patients are able to continue receiving important periodontal health care without worrying for their well-being! In addition to providing continued care to patients who have been fighting periodontal disease, we are here to help those who begin to worry that their gums are in poor health.
Creating A Safe Environment For Patients And Team Members
Our goal is always to make our office environment safe for all of our patients and team members. Infection control will always be a priority at our clinic. In addition to keeping all tools and patient treatment areas sterile, we have changed how we schedule patients and the arrangements of our waiting room to protect you. To stay on top of any potential changes and new recommendations, our office is staying current with updates and information provided by the Centers For Disease Control And Prevention and the American Dental Association.
We Can Continue To Help You Manage Periodontal Disease
Problems with periodontal disease can grow progressively worse over time, which means that going without the appropriate treatments can make you more likely to experience complications like tooth loss! We are continuing to provide different degrees of support for those patients who are trying to minimize the impact of this disease on their well-being. This includes supportive periodontal maintenance to prevent further problems, as well as more involved treatment approaches, like LANAP laser services, which remove harmful microbes and infected tissues.
Our Practice Is Also Here To Support Individuals Trying To Prevent Periodontal Problems
If you are starting to worry that your issues with gum disease are worsening, or if your dentist recommends seeing a specialist for periodontal care, our practice is ready to help! Thanks to our diagnostic imaging technology, we can determine how your infection has progressed, and what treatment options would benefit you!
Dr. Kania Is Ready To Help You Maintain Your Periodontal Health!
At our periodontal practice, patients who are struggling with poor gum health can have their tissues closely examined for problems, and they can receive treatments to protect them against their infection. As our community continues to work to safeguard everyone against Covid-19, we are taking care to protect our ensure our patients can count on care in a safe environment. To learn more, call Dr. Kania's periodontal office in Encinitas/San Diego, CA, at (760) 642-0711.