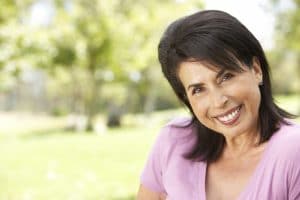 There are several symptoms of gum disease that can affect a person, particularly if they do not take action and address the matter promptly. One effect of an infection is visible recession of the gum line. This is a cosmetic concern, but it can also be responsible for discomfort, as the portions of teeth exposed are naturally more sensitive, and less resistant to cavities. Even when gum line recession is caused by something other than an infection, it can make you more vulnerable to infections in the future. At our Encinitas/San Diego, CA periodontal practice, patients who worry about their gum line can learn about a less invasive approach to treatment that we offer. Thanks to the Pinhole Surgical Technique, we are able to offer a less invasive procedure to return your gum line to its appropriate position.
Gum Line Recession And Your Periodontal Health
Gum line recession is not always a symptom of gum disease. It could have occurred because of aggressive brushing, or due to problems with teeth grinding or clenching. With that said, periodontal disease is often responsible for this issue – even when it is not, it should be noted that experiencing this recession can make you more vulnerable to infections.
Discussing Pinhole Gum Grafting Treatment
Instead of a traditional gum grafting procedure that requires manual cutting and suturing, we rely on the Pinhole Surgical Technique to manipulate periodontal tissues in a less invasive manner. Your gum tissues will be carefully moved through a small hole, which removes a need for traditional surgical work. A special biocompatible collagen encourages recovery and attachment, so your tissues stay in place once treatment is performed.
What Else Can A Periodontist Do To Care For Your Gums?
Gum grafting is just one of many services we can offer to people affected by periodontal disease. Preventive periodontal services help patients avoid complications that can occur when gingivitis is an issue, and to control harm caused by more advanced infections. If necessary, we can provide laser periodontal treatments and platelet rich therapy to fight the damage done by an infection. Laser treatments remove unhealthy tissues so that new tissues can grow in their place. With platelet rich therapy, your periodontist can stimulate healthy growth to help you recover from your problems.
Schedule A Gum Grafting Treatment At Our Encinitas/San Diego, CA Periodontal Practice!
At our Encinitas/San Diego, CA periodontal practice, we are prepared to help individuals who are impacted by gum disease. For people who hope to address their recessed gum line, we can use the Pinhole Surgical Technique to make the process easier and less invasive. This is one of many modern approaches to periodontal care that can benefit you. To find out more, please call Dr. Kania's periodontal practice at (760) 642-0711.