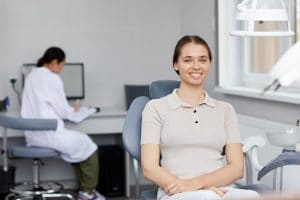 A person who suffers from periodontal disease can face a real risk for tooth loss. The bacteria that infect your gums can cause the destruction of healthy attachments that keep your teeth secure. If the harm done becomes serious enough, you may have to have loose teeth extracted, or they can be lost on their own! Fortunately, modern periodontal treatment can help people manage their problems with periodontal disease. Through careful laser treatment, our Encinitas/San Diego, CA periodontal practice can carefully clear away infected tissues. The removal of damaged gums helps by taking away bacteria, and by encouraging the growth of healthy tissues. In addition to offering greater precision, lasers help people heal more quickly from a procedure.
Removing Infected Tissues To Address Periodontal Disease
In order to protect your smile from periodontal disease, it is important to remove unwelcome bacteria that are causing attachment loss. Removing infected gum tissues will help with this in two important ways. The first benefit to your treatment is the removal of bacteria that are doing so much harm. The additional benefit is that after removal occurs, your body can begin healing, and creating healthy gum tissues.
Lasers Offer More Precise Care, And Shorter Healing Times
By using lasers during periodontal treatment, Dr. Kania can provide a more precise procedure, and help you recover in less time. Lasers allow for a degree of accuracy that exceeds manual treatments, meaning your healthy tissues are easier to preserve in the course of treatment. Limiting the amount of work done means protecting more of your gums, and it can make your recovery easier. Recovery is also easier because lasers can minimize bleeding, and will not require the use of sutures after a procedure!
Our practice offers two different types of lasers. In addition to performing procedures with advanced LANAP, we also have the Erbium WaterLase laser. Our goal is to make sure we are providing access to quality treatment experiences, and advanced tools help make this possible!
We Are Proud To Offer Modern Treatments For Periodontal Trouble
We can do more than just protect your gums by removing infected tissues. Through PRP therapy, we can actually encourage the faster growth of healthy tissues! We can also take action to destroy invasive bacteria through ozone therapy. This treatment uses concentrated oxygen to eliminate the anaerobic bacteria that cause harm to a person's periodontal health.
Talk To Dr. Kania About Periodontal Care Involving Laser Treatment
At our Encinitas/San Diego, CA periodontal practice, Dr. Kania is prepared to help patients who are trying to combat the harmful effects of periodontal disease! We can talk with you about arranging work to remove bacteria, and protect your healthy gums. To seek Dr. Kania's expertise, contact her office today at (760) 642-0711.