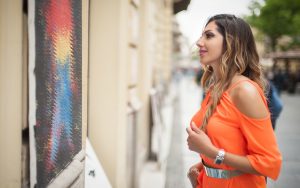 From Saturday August 10 through Sunday, August 11, people in and around San Diego can head out to the ArtWalk event happening at Liberty Station! During this two day celebration, you can see impressive works of art created by a wide range of artists, all ready to view in a lovely outdoor setting. Of course, you can do more than just admire the art – you can also find that many pieces will be available to buy from the artist directly! A work of art can maintain its appearance, and value, when it is treated properly. If you want your smile to maintain its value, make sure you pay attention to your dental and periodontal health needs! At our Encinitas/San Diego, CA periodontal practice, we can help you keep your gums in good shape, and help you fight the effects of periodontal disease.
When:
This special event is running on Saturday, August 10 and Sunday, August 11. The event will run from 10 am until 6 pm on Saturday, and from 10 am until 5 pm on Sunday.
Where:
This event is happening at Liberty Station at Ingram Plaza, in San Diego's Arts District.
Cost:
You can explore this special two-day event for FREE! The cost of different pieces is determined by the artists.
Activities Include:
You can see a wide range of artworks on sale directly from artists, and enjoy the chance to admire these pieces under the natural San Diego sunlight!
For More Information:
For more information about this upcoming special event, please click here.
Schedule Your Appointment For Periodontal Care With Dr. Kania!
At our Encinitas/San Diego, CA periodontal practice, we are committed to helping people enjoy great support for their gums! Trying to maintain your periodontal health? We can offer important preventive services! Worried about active periodontal problems? We can work with you to manage these issues, and preserve your smile! For more information, or to seek Dr. Kania's expertise, contact her office today at (760) 642-0711.