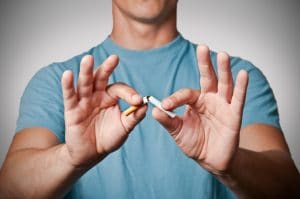 Your use of tobacco products can create several issues for your smile that you would most likely prefer to avoid. Teeth stains from smoking and smokeless tobacco can be unattractive and embarrassing. Your use of these products increases your risk for developing serious health problems, like oral cancer, later in life. You also have to worry about your periodontal health. If you eliminate tobacco from your life, you can be less likely to experience gum disease, and its harmful effects. Your Encinitas/San Diego, CA periodontal specialist can talk to you about the benefits of tobacco cessation for your gums. Our practice is also here to help if you are already trying to deal with the effects of periodontal disease.
Cutting Out Tobacco Can Help You Better Manage Your Periodontal Health
There are several changes you may be able to make to your life if you want to avoid issues with periodontal disease. If you currently smoke, or use smokeless tobacco, banishing these products from your life can make it easier for you to keep your gum tissues safe and healthy. That means you are less likely to suffer from gingivitis, and less likely to have that problem progress to the point of periodontal disease. As a result, you can have an easier time avoiding issues like gum line recession, tooth loss, and more!
The Importance Of Prevention
Preventing periodontal disease can have an important effect on your efforts to preserve your smile. You can take care of your smile at home by practicing smart oral health habits, and being consistent about brushing and flossing. Taking time during these sessions to check for signs of gingivitis also helps you prevent issues, as you can recognize when you might have a problem when your condition is still easy to reverse.
Already Dealing With Periodontal Disease? We Can Help!
Our practice offers many modern treatments that are effective at fighting issues with poor periodontal health. If you need to do something about infected gum tissues, LANAP treatment will see your periodontist carefully trim away damaged gum tissues. This procedure is remarkably accurate, and you can actually heal more quickly from laser treatment than you would with a traditional procedure! We can also offer ozone therapy to help you fight the bacteria that are present in your periodontal tissues.
Talk To Dr. Kania About Your Concerns About Your Gum Health
If you are concerned about the health of your gums, make an appointment with Dr. Kania to learn about your treatment options! In addition to fighting active periodontal problems, we can help you improve your preventive efforts. Taking steps to improve your daily oral health routine, and eliminating tobacco from your life, can help you keep your teeth and gums in great shape over the years! To seek Dr. Kania's expertise, contact her office today at (760) 642-0711.