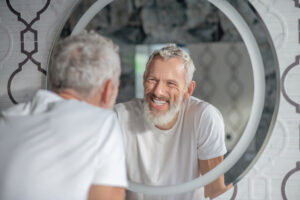 If you want to stay healthy over the years, make sure your gums are receiving enough attention. If you let a problem with an infection go untreated, there are serious consequences that can ultimately affect you. The problems linked to advanced gum disease include tooth loss as well as complications that threaten your overall well-being! Fortunately, your Encinitas/San Diego, CA periodontist can help. Whether you are trying to avoid complications from an active issue with periodontal disease or hope to do something about gingivitis before it worsens, we can offer the appropriate guidance and in-office care.
How Can I Tell When Something Is Wrong With My Gums?
If you come in for an evaluation at our practice, we can use advanced diagnostic imaging tools to study your gum health and let you know what kind of trouble you are dealing with. From that information, we can recommend the appropriate services. Of course, it can also help to know what you should be looking out for if you think you might have problems with your gums. Checking for the early warning signs of an infection can ensure that you seek treatment before a problem can both form and progress. Some of the early trouble you can have with your gums includes problems with tissues that bleed more often when you brush and floss. Persistent troubles with bad breath are also a concern. As a condition progresses, it can lead to issues with swelling and discoloration, as well as sensitivity. You may also notice a change as the gums begin to recede.
The Importance Of Prioritizing Periodontal Care
Any time you think something is wrong with your gums, treatment can be important. This can be especially true if you are someone who has had difficulties with poor periodontal health in the past. When the problem is identified and addressed in time, preventive periodontal services can help. These forms of care involve careful cleanings to remove bacteria at the roots of teeth that can create problems for tissues. If necessary, we can recommend that you start supportive periodontal maintenance, an ongoing series of cleanings that take the place of general dental cleanings.
When you already have more advanced problems, there are more advanced services that can help. We offer approaches that rely on advanced technology, such as the LANAP protocol, which uses laser tools, and we can also discuss the role of holistic treatments like ozone therapy and platelet rich plasma therapy for care.
Talk To Your Encinitas/San Diego, CA Periodontist About Managing Poor Gum Health!
The right approach to managing your periodontal health can protect you against potentially serious threats. To find out more about how we can assist you in treating gum disease and managing your health, please call Dr. Kania's office in Encinitas/San Diego, CA, at (760) 642-0711.