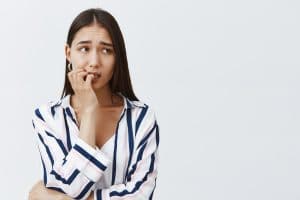 Is your gum line starting to recede? Do your gums appear swollen or red, or do they often bleed whenever you brush and floss your teeth? If you are experiencing these issues, or if you are warned about gingivitis during a dental checkup, you can have some understandable concerns about the long-term consequences of gum disease. At the initial stage of an infection, gingivitis, the problem is reversible, and you can bring your gums back to good health. If the problem progresses, and you develop periodontal disease, fighting the infection can become more challenging. Our Encinitas/San Diego, CA periodontal practice offers special treatments that can protect your smile from periodontal disease. Addressing this problem is important – in addition to raising your risk for tooth loss, your infection can make it difficult for you to manage your general health.
Problems With Gingivitis Can Worsen, And Become Difficult To Manage
If your dentist brings up problems with gingivitis, or if you are noticing problems with your gums, you should take the matter seriously. Dealing with gingivitis promptly can stop an infection from worsening, and creating long-term concerns for your periodontal health. Unfortunately, when people ignore signs of trouble, or fail to heed warnings from their dentist, an infection can progress and become more severe.
Scheduling Preventive Periodontal Services
Responding to gingivitis can bring your gums back to good health, and make sure that you avoid health complications linked to periodontal disease. Preventive periodontal services can focus on removing the bacteria beneath your gums in order to let them heal. We can schedule a scaling and root planing procedure to clear away unwanted microbes on your teeth below your gum line, and polish your tooth structure to make future bacteria buildup less likely.
We Offer Modern Periodontal Treatment Options For Our Patients
Untreated periodontal disease can cause the destruction of your gums, and the bone tissues that support teeth. We can fight this infection in several ways, and help you preserve your smile. Through laser treatment, we can remove damaged tissues so that your body can heal and grow healthy tissues. We can also use treatments like ozone therapy to target destructive bacteria that are growing beneath your gum line. We emphasize modern treatments that minimize discomfort, and lead to meaningful periodontal health support for our patients!
Talk To Dr. Kania About Possible Issues With Periodontal Disease
Are you concerned about periodontal disease? At our Encinitas/San Diego, CA periodontal practice, Dr. Kania offers a range of important treatments to fight the harm an infection can do. We are also prepared to evaluate the health of your gums, and offer meaningful preventive care. If you wish to seek Dr. Kania's expertise, contact her office today at (760) 642-0711.