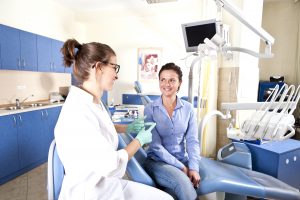 We understand that concerns around coronavirus have changed many people's priorities, and generally led to a reduction in activities that take them out of their homes. In order to make sure our Encinitas/San Diego, CA periodontal practice can safely tend to our patients' needs, we have followed CDC and ADA guidelines and updated our office practices to maintain a safe environment for everyone who sees us. Through changes in scheduling and how we welcome patients before their appointments, along with the implementation of technology to better filter harmful microbes out of the air, we are keeping patients and team members protected. Because of this, we can continue providing important services for people who are dealing with periodontal disease, as well as those who can still protect themselves against the onset of an advanced infection through preventive periodontal care.
How We Are Protecting Our Patients And Staff Against Coronavirus
We have made adjustments to our office practices and added new resources that protect our patients against exposure to coronavirus. Because of this, we are able to continue providing services that help people manage their periodontal health. Some of the changes we have implemented include:
Changes in how we greet and interact with patients arriving for appointments
The removal of items that are commonly handled in our waiting area
Appointment adjustments that create more space between patient arrivals and departures
The introduction of filtration technology that can more effectively remove harmful particles from the air
These and other changes have helped us ensure we are providing safe, reliable treatment for people who count on us for periodontal care. We continue to monitor ADA and CDC updates and can continue to change our practices with new guidance.
Scheduling Important Periodontal Treatments
When you have access to periodontal services, you can better protect yourself against problems that affect individuals with periodontal disease. This includes laser treatment to fight periodontal infections, pinhole gum grafting procedures, and even work to place a dental implant to support a dental prosthetic.
We Can Help You Protect Your Gums Against Future Problems
Our practice is here to help with more than just active issues with advanced periodontal disease. With our diagnostic technology, we can give you important feedback about the type of infection that you are dealing with. For those who receive treatment in time, preventive periodontal care in the form of a scaling and root planing can stop an infection from growing serious enough to cause long-term issues.
Schedule Periodontal Services With Dr. Kania!
By scheduling time with Dr. Kania, patients who are affected by periodontal disease can receive treatments that help them manage their conditions and protect their smile and general health. If you have questions about our services, or if you want to learn more about how we continue to make our office a safe environment, please call Dr. Kania's office in Encinitas/San Diego, CA, at (760) 642-0711.