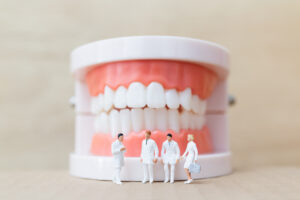 Maintaining good periodontal health is essential for keeping your smile healthy and whole, and for avoiding painful symptoms. Our team understands how to prevent and manage gum disease, so you enjoy a full smile. In today's blog, your Encinitas/San Diego, CA, periodontist talks about protecting your periodontal health.
The Impact of Poor Gum Health
Our gums essentially frame and support our teeth, containing the tissues that keep the teeth stable and firmly in place. Which means when these same gingival tissues become strained, this could lead to serious oral health concerns, including the loss of your natural teeth. Right now, studies show 80% of adults in the United States suffer from some stage of the disease, threatening the health and stability of their smiles. The inflammation that causes periodontal disease could also be linked to other serious health concerns, including hypertension, dementia, diabetes, arthritis, and atherosclerosis. When you begin to exhibit common warning signs, such as sore gums, redness, or bleeding, you should let us know right away.
Starting Treatment
Using advanced imaging technology, we will conduct an exam and diagnosis with precision and accuracy. We can then assess the cause of your disease and assess the severity. From there, we can decide on possible treatment options to reverse gingivitis or manage periodontal disease to prevent periodontitis, the late stage that causes adult tooth loss.
Possible Treatment Options
For early stages, we could manage the issue with Ozone Therapy, antibiotics, and holistic therapies. If you have a more severe case, we may employ Perio Protect, gum grafts, and laser dentistry to remove compromised tissues and make managing the tissue with preventive care possible moving forward. Our team will employ dental sedation to ensure you're comfort throughout the process. If you've lost teeth due to the disease, then our team could employ dental implants to replace them. These not only look natural, but function like natural teeth too, preventing the changes in the jaw ridge that usually accompany tooth loss. Your new teeth can last for decades as a result.
If you have any questions about how our team diagnoses and treats periodontal issues, or about our preventive actions that can keep your smile healthy and strong, then contact our team today to learn more. Our team wants to help you and your family enjoy strong gingival tissues and a full and healthy smile for years to come!
Talk To Your Encinitas/San Diego, CA Periodontist About Treatment
We want to help you and your family enjoy optimal periodontal health. If you would like to find out more about ensuring good gum health, then call Dr. Kania's office in Encinitas/San Diego, CA, at (760) 642-0711. We're ready to see you and offer care to protect the health, beauty, and stability of your smile.