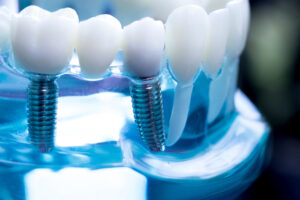 When periodontal disease causes tooth loss, we want to do more than just manage the disease. We also want to offer replacement teeth to ensure you continue to enjoy a full smile. To do so, we can discuss dental implants. In today's blog, your Encinitas/San Diego, CA, periodontist talks about placing dental implants.
Gum Disease and Missing Teeth
When a person develops gum disease and doesn't receive treatment to manage the disease, it can reach a stage known as periodontitis. At this stage, the risk of tooth loss increases as the disease severs the tissues connecting the teeth and gums. In fact, this is the number one cause of adult tooth loss. When we lose our teeth, we also lose mass and density in the jaw, as the body stops supplying the jaw with doses of calcium and phosphorus, causing further tooth loss and an aged appearance. But our team can help bring your disease into a manageable state, one that enables us to safely place dental implants and address your missing teeth.
Securing Your New Tooth Roots
Our team will first carefully examine your jaw with advanced imaging technology, making sure you have enough structure to support new tooth roots. If not, we could rebuild these portions of the lower jaw with jawbone grafting. We then use advanced technology to plan and place the implant post into the jaw, where they sit at a specific angle and position to support new teeth. The posts will bond with the jawbone through a process known as osseointegration. This helps prevent further breakdowns in the jaw, and helps ensure your new tooth or teeth can remain in place for decades to come, or in some cases, a lifetime.
Crowns and Dentures
After we insert the post, the area needs to heal before we move forward with the next step. Once it does, we will attach an abutment to the post, one that extends above the gum line, providing structure to connect the visible part of your new tooth. For an individual option, this could involve securing a custom crown, one that looks natural and blends with the smile while also providing a balanced bite and a durable chewing surface. If you have more severe tooth loss, we could use multiple posts to support a bridge or even a full set of dentures, with a prosthetic that can last far longer than traditional bridges or removable dentures.
If you have any questions, then reach out to our team today to learn more.
Scheduled Your Implant Appointment With Your San Diego, CA, Periodontist, Dr. Kania!
We want to offer a durable and lifelike solution for your missing teeth with implant dentistry. Call Dr. Kania in Encinitas, CA today to find out more about replacing missing teeth at 760-642-0711.