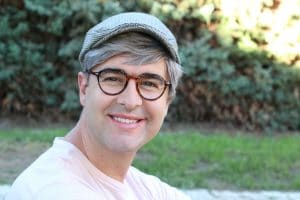 If you are not putting up an effective fight against periodontal disease, the consequences can be serious. An infection that affects your gums can spread and affect you in other ways, leading to the potential for more health troubles. You can also face a higher risk for tooth loss, as the bacteria that have gathered on the roots of your teeth can destroy the surrounding tissues. Our Encinitas/San Diego, CA periodontal practice is prepared to help you fight this condition. One thing we can do is directly target harmful microbes while leaving healthy bacteria alone. We can do this through ozone therapy, a treatment that administers concentrations of oxygen to your gums in order to destroy the anaerobic bacteria that have built up and caused your condition.
How Does A Person Develop Periodontal Disease?
Periodontal disease forms when bacteria build up below your gum line and begin to cause problems for your health. At first, an infection takes the form of gingivitis. At this stage, preventive periodontal care will help, and you can fight to restore the health of your gums by brushing and flossing effectively. However, if the condition progresses, it can become more difficult to treat, which means you face greater risks for complications.
How Ozone Therapy Helps Fight An Infection
Ozone therapy gives us a means of fighting the harmful bacteria below your gum line without disrupting your mouth's ecosystem. Not all of the bacteria that gather in our mouths are responsible for infections. Those that are not harmful can help sustain your well-being over time. With ozone therapy, oxygen is used to eliminate the harmful anaerobic microbes. This can lead to a positive change in your condition, helping you control your condition and avoid complications.
Other Actions We Can Take To Protect Your Gums
Ozone therapy is just one of many actions our practice is ready to take. Our office possesses laser technology that we can use to remove bacteria and infected tissues. These tools offer greater precision than manual tools that are sometimes used to manipulate your periodontal tissues. They also lead to shorter and easier healing periods. Another procedure we offer is PRP therapy, which uses platelet-rich plasma to encourage the growth of healthy gum tissues to confront the damage done by your infection.
Your Encinitas/San Diego, CA Periodontist Offers Ozone Therapy To Fight Periodontal Disease
Our periodontal practice in the Encinitas/San Diego, CA area is ready to help patients who are struggling with periodontal disease. We have several treatments that we are ready to provide, including ozone therapy to fight the buildup of bacteria below your gum line. To find out more, please call Dr. Kania's periodontal office in Encinitas/San Diego, CA, at (760) 642-0711.