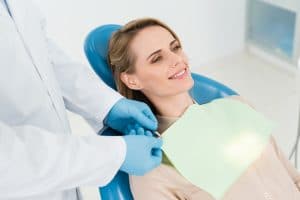 Without treatment, periodontal disease can cause potentially serious problems to occur. One problem concerns tooth loss. Over time, periodontal bacteria will gradually destroy the tissues that support teeth, leaving them without needed support. People affected by periodontal disease can also experience complications with their general health, and can have a harder time managing certain conditions, like diabetes. Our Encinitas/San Diego, CA periodontal practice is ready to welcome patients and provide important services to fight infections. We have always made patient safety and comfort a priority. In response to the threat of Covid-19, we have implemented new measures to keep our patients and team members safe against potential infection. Because of this, we continue to provide services for diagnosing, preventing, and managing periodontal disease!
You Still Have Access To Important Periodontal Services
Periodontal disease can create serious problems when it is not being managed. We have made adjustments to our office practices so that we can continue to safely see people and help them protect their gums, and their overall health. Our office continues to see patients, including those who seek more involved services like laser periodontal treatment, or the placement of dental implants to address tooth loss.
What We Do To Keep Our Office Safe For Patients And Team Members
Our in-office practices have changed in response to the threat of Covid-19, and we will continue to follow recommendations provided by the American Dental Association and Centers For Disease Control. We have changed our approach to scheduling to minimize the number of people in our office at one time, and removed items that are often handled in our waiting room. Hand sanitizer is available, and we will provide a special oral rinse for you to use before your treatment begins. Other changes include the use of air purifiers that help fight viruses.
Worried About Your Periodontal Health? Schedule A Review!
Because periodontal disease can take a serious toll on your smile, your oral health, and your general well-being, you should not ignore symptoms of an infection! With our diagnostic imaging technology, we can closely examine your gums to see how serious your infection might be. With this information, we can discuss your treatment options. We offer services like scaling and root planing to fight bacteria and prevent long-term issues with periodontal disease. We can also provide more involved services to control an infection that has already grown serious.
Dr. Kania Is Ready To Address Your Periodontal Health Concerns
Dr. Kania continues to meet with patients, and she can help you address ongoing issues you have with periodontal disease. To make sure we remain a safe environment, we are practicing stricter guidelines to control infection risks, and we are staying updated regarding CDC and ADA recommendations. To find out more, you can contact our periodontal office in Encinitas/San Diego, CA, at (760) 642-0711.